National Work Zone Memorial
On the national level, the American Traffic Safety Services Foundation (ATSSF) unveiled the National Work Zone Memorial in 2002 as a living tribute to those who have lost their lives in work zones. It travels to communities across the country to raise public awareness of the need to respect and stay safe in American's roadway work zones.
CDOT will be submitting the following names for inclusion on the Memorial Wall in 2005: Roy Baxstrom, Lawrence Brooks, Victor Dempewolf, Ernest Finehout, Paul Forster, Thomas Frank, William Glidewell, Richard Gorrell, Melvin Jackson, Henry Kahl, Joseph Lochnikar, Eladio Lopez, Harry 'Gus' Nelson, Louie Volturo, Milton Walling, Charles West and Ernest Wich. Other names could be submitted as additional information is acquired. Three Colorado highway workers currently are listed on the Memorial Wall – David Stekr, Leslie 'Joe' Rose and James Kingery.
List of Work Zone Related Fatalities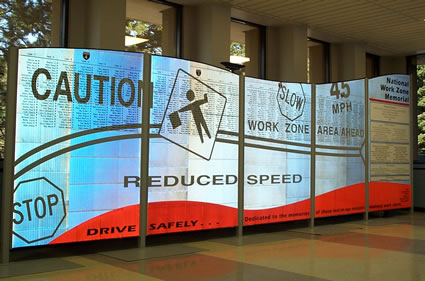 CDOT at a Glance
* Maintains, repairs and plows over 23,000 total lane miles of highway
* Maintains 3,447 bridges
* Oversees 28 billion miles of vehicle travel annually
* Plows about 6 million lane miles each year
* Spends $69 million annually on snow removal
* Keeps over 35 mountains passes open year-round
* Monitors 278 of 522 avalanche paths
* Administers about $11 million in federal grants for transit operators and $41 million in federal aviation grants for airports
* Manages over $5 million in federal grants for safe driving programs