Fly UAS Responsibly
This page gives Unmanned Aircraft Systems (UAS), or "drone" users important information and guidance needed to fly safely and responsibly.

General Information
What is an unmanned aircraft system (UAS)?
The law defines an unmanned aircraft as "an aircraft that is operated without the possibility of direct human intervention from within or on the aircraft" (Public Law 112-95, Section 331(8)) Also called drones, these unmanned aircraft do not have a human pilot onboard.

UAS range from radio-controlled, fixed-wing aircraft to helicopters or rotorcraft models sometimes called quadcopters, and can be flown for fun or for work.

Is a UAS the same as a model aircraft?
Congress defined a "model aircraft" as an unmanned aircraft that meets all of the following:

Is capable of sustained flight in the atmosphere
Is flown within visual line-of-sight of the person operating it
Is flown for hobby or recreational purposes
 

Who do I contact if my question isn't answered on the UAS website?
We encourage you to first read all of the information on the website and browse our Frequently Asked Questions. If you still have questions or concerns, you may contact the FAA's UAS Integration Office via [email protected] or by calling 844-FLY-MY-UAS.

When is the effective date of the Small UAS Rule?
The Small UAS Rule will be in effect August 29, 2016.
Recreational Users
What is the definition of recreational or hobby use of a UAS?
Recreational or hobby UAS use is flying for enjoyment and not for work, business purposes, or for compensation of hire. In the FAA's Interpretation of the Special Rule for Model Aircraft, the FAA relied on the ordinary, dictionary definition of these terms. UAS use for hobby is a "pursuit outside one's regular occupation engaged in especially for relaxation." UAS use for recreation is "refreshment of strength and sprits after work; a means of refreshment or division."

Do I need permission from the FAA to fly a UAS for recreation or hobby?
No, but your unmanned aircraft must be registered if it weighs more than 0.55 lbs. FAA guidance also says that UAS should always be flown a safe distance from populated areas and other aircraft. Visit the "Fly for Fun" webpage for safety rules and guidelines that apply to recreational UAS operations. If the aircraft is flown within five miles of an airport, the operator of the aircraft must provide the airport operator and the airport air traffic control tower (when an air traffic facility is located at the airport) with prior notice of the operation. Also, airspace regulations may be applicable to the area you are operating in, which may require approval from the FAA to operate in those areas. The B4UFLY app can assist you in determining what airspace restrictions may be in place.

Does the new Small UAS Rule (part 107) apply to recreational UAS operations?
Part 107 does not apply to UAS flown strictly for fun (hobby or recreational purposes) as long as these unmanned aircraft are flown in accordance with the Special Rule for Model Aircraft (Section 336 of P.L. 112-95). Visit our "Fly for Fun" webpage for safety rules and guidelines that apply to recreational UAS operations. The small UAS rule codifies the provisions of section 336 in part 101 of the FAA's regulations, which will prohibit model aircraft from endangering the safety of the national airspace system.

How do I know where it is OK to fly and where it is not OK to fly?
The FAA has developed a smartphone app called B4UFLY to help recreational UAS operators know whether there are any restrictions or requirements where they want to fly.

Can I fly a model aircraft or UAS over a stadium or sporting events for hobby or recreation?
No. Federal law restricts UAS from flying at or below 3,000 AGL within a 3 nautical mile radius of any stadium with a seating capacity of 30,000 or more people during a Major League Baseball (MLB), regular or post-season National Football League (NFL), or NCAA Division I football game, or major motor speedway event. This temporary flight restriction applies to the entire U.S. domestic national airspace system, and takes effect starting one hour before the scheduled event time until one hour after the event concludes. The FAA spells out the details in a Notice to Airmen (NOTAM.)

Do I have to notify all airports within five miles of my proposed area of operations?
Yes, you must contact any airports (including heliports and sea-based airports) and air traffic control towers within five miles of your proposed area of operations.

Can an airport operator object to model aircraft flights near an airport?
Yes, an airport operator can object to the proposed use of a model aircraft within five miles of an airport if the proposed activity would endanger the safety of the airspace. However, the airport operator cannot prohibit or prevent the model aircraft operator from operating within five miles of the airport. Flying over the objection of an airport operator may constitute a careless or reckless operation in violation of FAA regulations. Additionally, the UAS operator must comply with any applicable airspace requirements.
Safety Guidelines for Recreational UAS Users
 
Fly below 400 feet above ground level (AGL) at all times.

Keep your aircraft in sight at all times.

Do not fly near airports - stay outside a 5-mile radius from ANY active airport/airfield.
Remain clear of and do not interfere with manned aircraft operations.
Do not fly near or over sensitive infrastructure or property; power stations, water treatment facilities, correctional facilities, sporting events, heavily travelled roadways.
Stay clear of FAA temporary flight restrictions; fires, crimes scenes, sporting events.
Follow community-based safety guidlines developed by organizations such as the Academy of Model Aeronautics.
Check and follow all local laws and ordinances before flying over private property.
Safety Information Brochures and Apps
 
Commercial Users
How do I fly a UAS for work or business purposes?
There are three ways to fly a UAS for work, business, or non-recreational reasons:

Following the requirements in the Part 107 rule
Following the rules in your Section 333 grant of exemption
 

I am part of a Federal/State/local government office – how can I fly a UAS to support a specific mission e.g. search and rescue?
You may either operate under the Part 107 rule, or you may apply for a public Certificate of Waiver or Authorization (COA) for certain operations.

Can news media fly a UAS to shoot stories or cover breaking news?
Media companies may use a UAS, but must adhere to the requirements of the Part 107 rule. This includes not flying over non-participating people without a protective structure. Organizations may request a waiver to fly over people, and will need to provide sufficient mitigations to ensure public safety.

What options do I have if my operation is not permitted under this rule?
If you are operating an unmanned aircraft that weighs less than 55 pounds, generally, you may apply for a waiver to request special permission to conduct your operation. Generally, you must submit a waiver application that outlines how you intend to safely conduct your proposed operation, including any additional risk mitigation strategies you may use. An online portal will be available through www.faa.gov/uas for UAS operators to apply for waivers to applicable parts of the rule. Get more information in the FAQ section onPermissions, Authorizations, Waivers, and Exemptions.
What is a commercial use of a UAS?
 
Selling photos or videos taken from a UAS; professional real estate or wedding video or photography, cinema photography for a film or television production
Using UAS to provide contract services, such as industrial equipment or factory inspection
Using UAS to provide professional services such as security, telecommunications, mapping, and land surveys
Airport Operators
This information will provide airport operators with an understanding of Unmanned Aircraft System (UAS) operation from and airport perspective.
This information will provide airport operators with an understanding of model aircraft use within five statute miles of an airport.
Remote Pilot Certification/Testing
I already have a pilot certificate issued under part 61. Do I need to obtain a remote pilot certificate to fly a UAS under the Small UAS Rule (Part 107)?
Yes. All operations under the Part 107 rule require the UAS operator to have a remote pilot certificate, which he or she can obtain by taking an online training course. However, part 61 pilot certificate holders who have completed a flight review within the past 24 months may elect to take an online training course focusing on UAS-specific areas of knowledge instead of the knowledge test. All other members of the public must take and pass the initial aeronautical knowledge test to obtain a remote pilot certificate.

When will the initial Knowledge Test at testing centers be available?
Members of the public will be able to take the knowledge test at testing centers on August 29, 2016.

When will the online training be available for current pilot certificate holders?
Online training for current pilot certificate holders is currently available at www.faasafety.gov.

How can I find the closest Knowledge Testing Center to me?
A list of Knowledge Testing Centers (PDF) is available.

Where can I find study materials for the knowledge test?
The Airman Certification Standards (ACS) and sample questions will be available at https://www.faa.gov/training_testing/training/

How much does it cost to get a remote pilot certificate?
We anticipate that a knowledge testing center will charge approximately $150 to people seeking to take the knowledge test.

Will the FAA recognize any previous UAS training I've taken?
No. Prior aviation-related training may be helpful to new applicants preparing for the knowledge test. However, there is no required practical training to fly under the Part 107 rule or to get a remote pilot certificate.

Once I complete the Knowledge Test at one of the approved centers, what is the process for obtaining my pilot certificate from the FAA?
After you have passed the Knowledge Test, you will then complete the FAA Airman Certificate and/or Rating Application (known as IACRA) to receive a remote pilot certificate. IACRA is a web-based certification/rating application that ensures you meet the requirements and electronically submits the application to the FAA's Airman Registry. Applications should be validated within 10 days. Applicants will then receive instructions for printing their temporary airman certificate, which is good for 120 days. The FAA will then mail you your permanent Remote Pilot Certificate within that 120 days.

What happens if I fail the knowledge test? How soon can I retake the test?
You may retake the test after 14 days.

What do I need to bring with me to take the knowledge test?
All applicants must bring a valid and current form of identification that includes their photo, date of birth, signature, and physical residential address. Acceptable forms of identification include:

What to bring in order to take the knowledge test
U.S. Citizen and Resident Aliens
Non-U.S. Citizens

Driver permit or license issued by a U.S. state or territory
U.S. Government identification card
U.S. Military identification card
Passport
Alien residency card

Passport
AND
Driver permit or license issued by a U.S. state or territory
OR
Identification card issued by any government entity


More information is available in the FAA Airman Knowledge Testing
Matrix (PDF).
Resources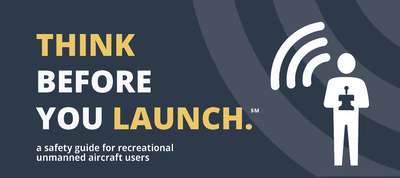 Think Before You Launch (TBYL) is an awareness campaign founded by an alliance of both UAS and Aviation stakeholders interested in improving aviation safety, while educating users about the safe and responsible operation and integration of unmanned aircraft systems (UAS).
WEBSITE: ThinkBeforeYouLaunch.com 
DOWNLOAD: TBYL Safety Guide for Recreational Unmanned Aircraft Users
---

Know Before You Fly is an educational campaign that provides prospective unmanned aircraft users with the information and guidance they need to fly safely and responsibly.
WEBSITE: KnowBeforeYouFly.org 
DOWNLOAD: Unmanned Flight Safety Guidance Brochure 
---

The Federal Aviation Administration (FAA) is committed to providing the safest, most efficient aerospace system in the world. The agency is executing a plan for safe and staged integration of unmanned aircraft systems into the National Airspace System. The FAA Unmanned Aircraft System (UAS) webpage provides the latest regulations and policies for recreational, commercial and governmental operations of UAS.
WEBSITE: FAA Unmanned Aircraft Systems (UAS)
DOWNLOAD: Hobby/Recreational Flying Safety Brochure 
B4UFLY Smartphone App (BETA) 
---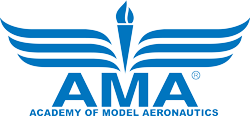 The Academy of Model Aeronautics (AMA) is the premier community-based organization in the United States for model aviation enthusiasts. With 175,000 members, the AMA is dedicated to the advancement and safeguarding of modeling activities. The Academy provides leadership, organization, competition, protection, representation, education and scientific/technical development to the model aviation community.
WEBSITE: ModelAircraft.org
DOWNLOAD: AMA National Model Aircraft Safety Code (Effective 1/1/2014) 
---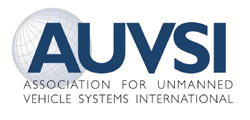 The Association for Unmanned Vehicle Systems International (AUVSI)—the world's largest nonprofit organization dedicated to the advancement of unmanned systems and robotics—represents more than 7,500 members from 60+ allied countries involved in the fields of government, industry and academia. AUVSI members work in the defense, civil and commercial markets.
WEBSITE: AUSVI.org
LINK: How to Fly Commercially: A complete Guide for Section 333 Exemptions 
---

The Small UAV Coalition advocates for law and policy changes to permit the operation of small unmanned aerial vehicles (UAVs) beyond the line-of-sight, with varying degrees of autonomy, for commercial, civil and philanthropic purposes. Its members include the leading manufacturers, operators, and service providers of small UAVs.
WEBSITE: SmallUAVColaition.org 
https://registermyuas.faa.gov/