Background: Mead to Johnstown
Overview
Communities along the I-25 North corridor are expanding rapidly, contributing to major economic growth in northern Colorado. The Colorado Department of Transportation (CDOT) will support this growth by delivering the I-25 North Project. In the section of I-25 between Mead and Johnstown, the project is broken into two sections – Mead to Berthoud and Berthoud to Johnstown. The Berthoud to Johnstown segment is currently under construction. Mead to Berthoud will start in the future, once funding is identified and becomes available. The overall project will:
Increase highway capacity by adding an Express Lane in each direction from Colorado Highway 402 to Colorado Highway 66
Rebuild interchanges
Replace 20 aging bridges: two state highway crossings over I-25, two county roads over I-25, 10 interstate crossings over cross streets, two spanning the Little Thompson River and four crossing the Great Western Railroad
Add Express Bus service (Bustang) throughout the corridor
Incorporate the use of intelligent transportation systems
Add carpool and transit facilities
Make major utility improvements
Straighten highway curves to improve safety
Add water quality facilities and improve drainage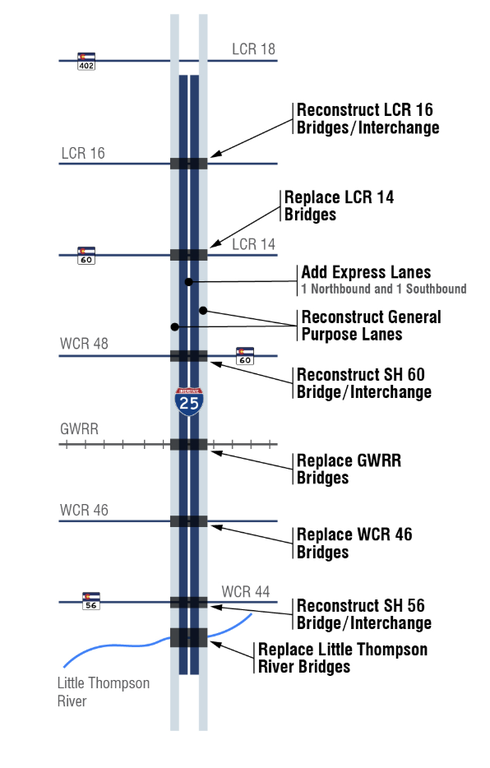 ---
Benefits
This project brings economic, environmental and quality of life benefits for northern Coloradans and Interstate users by:
Making safety improvements to reduce the number of crashes and fatalities
Decreasing travel time and increasing trip reliability
Reducing emissions and improving freight efficiency
Employing congestion management and safety technology to improve the travel experience
Rebuilding aging and obsolete infrastructure
Improving transit, bicycle and pedestrian connectivity
---
Timeline
The first segment of construction for the I-25 North Express Lanes project will be Berthoud to Johnstown, which includes CO 56 to CO 402. This segment is expected to begin construction in late 2019 and be complete in 2024. Work will include:
Major interchange reconstruction at CO 56 and CO 60
Reconfigure LCR 16 interchange
Replace 12 bridges
Mainline improvements including shoulder widening
Right-of-Way acquisition
Once more funding is identified and secured, construction will begin from Mead to Berthoud, which runs from CO 66 to CO 56.
---
Express Lanes
What are Express Lanes?
What are Express Lanes? Express Lanes provide travelers with more reliable, predictable travel times. Anyone can use Express Lanes. A solo driver in a passenger vehicle can use an Express Lane by paying a toll. A traveler can choose to travel for free on a motorcycle or as a carpooler with two passengers plus the driver. The addition of an Express Lane on the I-25 corridor does not mean that existing general purpose lanes will be tolled. The existing general purpose lanes are currently free to use and will continue to be free to use.
Benefits 
Reduce delay on Colorado's most seriously congested corridors
Use toll pricing to manage congestion
Maintain reliable travel times now and in the future
Promote transit and carpooling
Toll Pricing
Express Lanes help manage traffic congestion, and toll rates will vary by time of day to provide reliable travel times. Toll rates have not yet been set. The toll rates and any rate changes will be approved by CDOT's High Performance Transportation Enterprise. 
Additional Information
To learn more about the reconstruction of I-25 from Berthoud to Johnstown, visit www.codot.gov/projects/north-i-25. To learn more about Express Lanes, visit www.codot.gov/programs/expresslanes. To get an Express Lanes pass, visit www.expresstoll.com.