The Grand Avenue Bridge (GAB) project is the largest infrastructure project on the Western Slope in 25 years. Now in phase three of this five-phase project, crews are working to replace the more than five-decade-old traffic bridge in Glenwood Springs.
Use this site to learn more about our work to improve one of two routes for motorists to cross the Colorado River and Interstate 70, and its construction of a new pedestrian bridge along the GAB. You can also follow us on Facebook.
Watch construction live,
courtesy Colorado Mountain College.

Phase 3 and GAB Detour Information
Upcoming Work & Impacts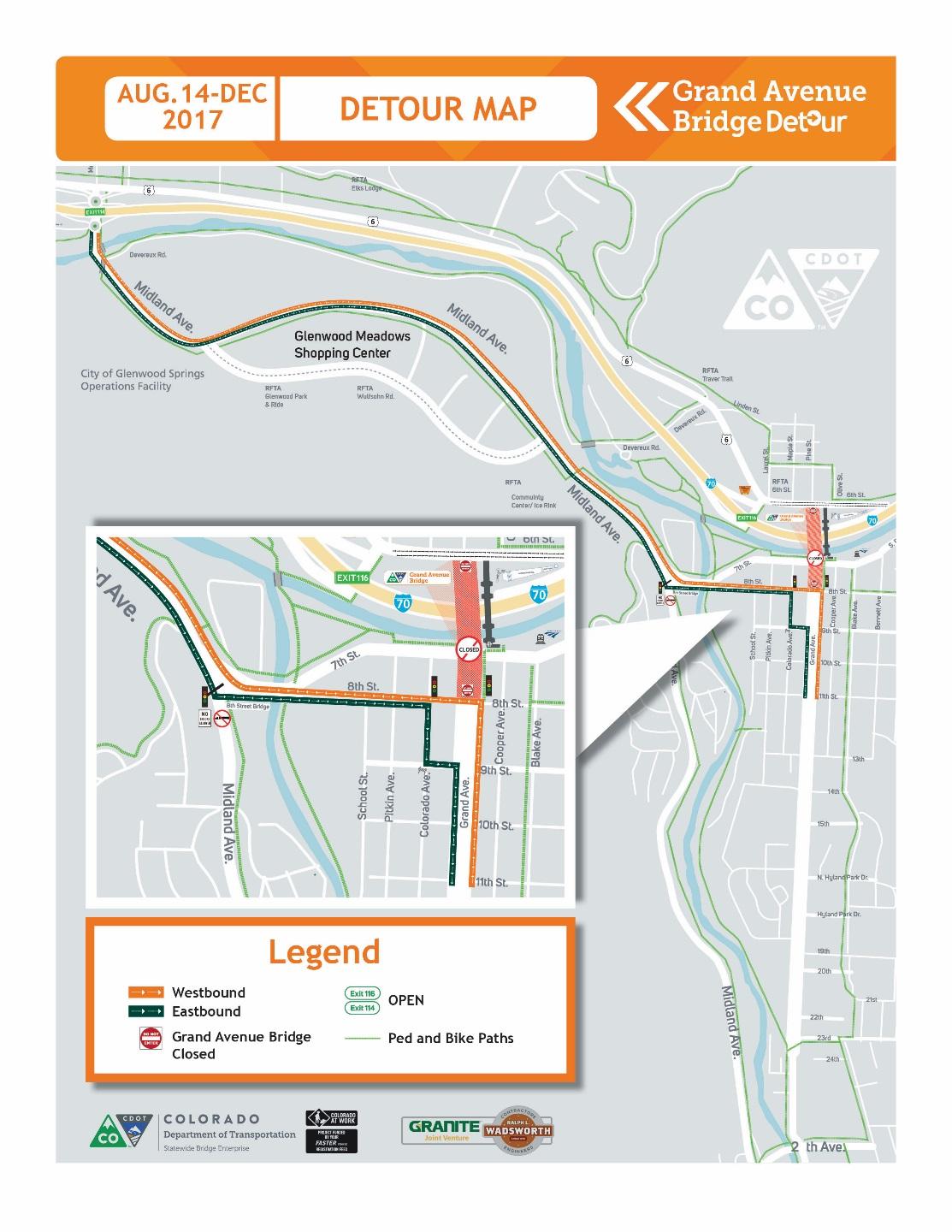 Grand Avenue Bridge Detour
Plan Ahead, Team Up, Drive Less
Please follow the detour route and signage.
Northbound (Traveling to north or west Glenwood and I-70 access)
Northbound CO 82 will be reduced to one lane at 27th Street. Traffic will be directed to turn left on Eighth Street, right onto Midland Avenue, and continue to the I-70 Exit 114 interchange for access to I-70, and north or west Glenwood residential and commercial areas.
Southbound (Traveling to Glenwood Springs and Roaring Fork Valley)
West Glenwood and I-70 travelers heading to Glenwood Springs or Aspen on CO 82 will be detoured through the I-70 Exit 114 interchange to Midland Avenue, left onto Eighth Street, right onto Colorado Avenue, left onto Ninth Street and right onto Grand Avenue to continue up-valley, or access downtown Glenwood Springs residential and commercial areas.