Teach Me How to GDL
About the Campaign
The Teach Me How to GDL campaign targets teens ages 15 to 18 who already have their driver's license, and it targets them where they spend a lot of their time—on social media—including Snapchat, Instagram and Facebook. The goal is to educate Colorado teen drivers on the three primary GDL issues: number of passengers in the car, mobile phone distractions and seat belt safety.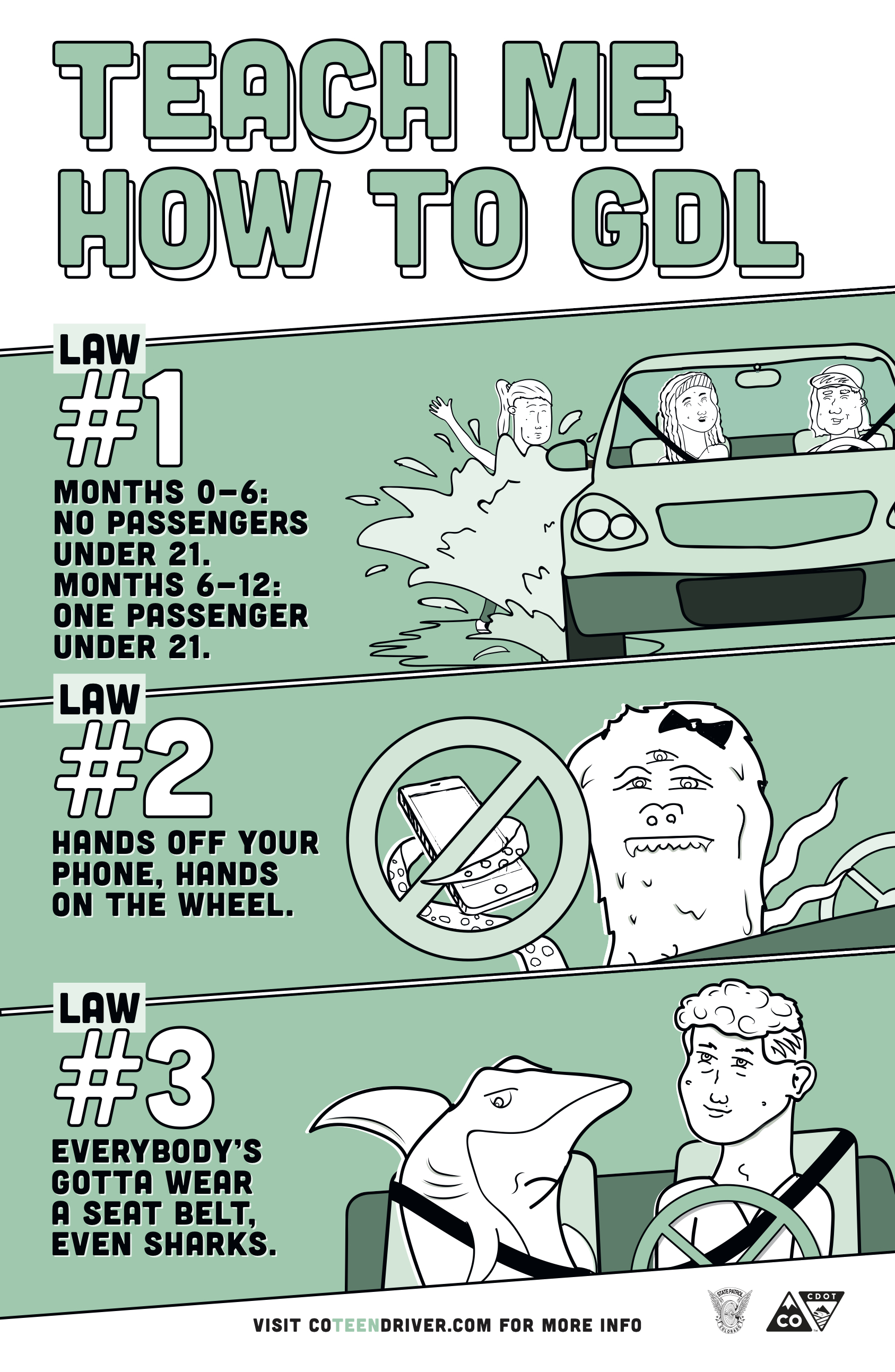 Sixty-seven young people between the ages of 15 and 20 were killed in traffic crashes in Colorado last year. That's a 22 percent increase from 2016, when 55 were killed, and it's the highest number of fatalities for that age group since 2008.
Teen drivers are among the most dangerous drivers on the road. To encourage them to drive safer, CDOT is launching a safety campaign aimed at increasing awareness of Colorado's Graduated Driver Licensing (GDL) program, and to foster adherence of GDL restrictions to ultimately save teen lives.
In Colorado, the GDL program started in 1999. Its intent is to promote safe driving among teens by reducing distractions, limiting the number of passengers permitted, and requiring proper driver education. Since 2004—when GDL laws were strengthened to include passenger restrictions and nighttime curfews—there has been a 66 percent reduction in deaths of teens ages 15 to 19.
To get teens interested in learning about and adhering to the rules of the road, we deliver funny and informative 15- and 30-second illustrated videos that will teach teens how to GDL while grabbing their attention and making the issues memorable.


Teach Me How to GDL: Safety Laws to Live By
Law #1: Months 0-6: No Passengers Under 21. Months 6-12: One Passenger Under 21.
Law #2: Hands off your phone, hands on the wheel.
Law #3: Everybody's gotta wear a seat belt.
Videos


Sam Cole
Communications Manager
303-757-9484


Email Sam.




Lynn Holly
Occupant Protection/
Child Passenger Safety
(Not Click-It or Ticket related)
303-757-9383


Email Lynn.




Department of Revenue
Division of Motor Vehicles
303-205-5646


DOR/DMV Website