Conducir bajo el efecto del alcohol

Tómate tu tiempo
Mucha gente en Colorado no sabe la cantidad de tiempo que debe esperar para estar sobria de nuevo después de consumir bebidas alcohólicas, así sea en cantidades pequeñas. En realidad, incluso una cantidad mínima puede afectar tu capacidad de manejar. Una sola cerveza puede permanecer en el sistema sanguíneo hasta por dos horas.
La campaña Tómate tu tiempo de CDOT busca aumentar la concienciación sobre el tiempo que le toma a una persona para que su contenido de alcohol en la sangre (BAC, por su sigla en inglés) vuelva a cero después de consumir alcohol. La campaña usará imágenes de bebidas alcohólicas para ilustrar cuánto tiempo una cantidad determinada de alcohol puede permanecer en el cuerpo.
Incluso si tu BAC es de menos de 0.05 % (el límite para una infracción de DWAI), todavía puedes resultar culpable de DUI si muestra señales de estar afectado. La única manera de tener seguridad que está bien para manejar es con un BAC de cero.
---
Alrededor de 60 personas son arrestadas cada día en Colorado por conducir bajo el efecto del alcohol. Para ayudar a reducir los choques relacionados con el consumo de alcohol y así salvar vidas, CDOT y BACTrack han trabajado juntos en los últimos años para promover el uso de alcoholímetros personales. El alcohol afecta a cada persona de modo diferente y la concentración de alcohol en la sangre (BAC) se ve afectada por una variedad de factores. Un alcoholímetro personal es la mejor forma de obtener una lectura precisa de tu BAC. Incluso uno o dos tragos pueden ponerte por encima del límite para un DWAI o un DUI. No te arriesgues, asegúrate de que tu BAC es de cero antes de decidir conducir.
Como parte de la campaña de The Heat is On de este año, CDOT colaborará de nuevo con BACtrack, una compañía líder de alcoholímetros personales y profesionales, para instar a las personas en Colorado a revisar su contenido de alcohol en la sangre (BAC) para confirmar que están sobrias antes de manejar. Gracias a esta asociación, los alcoholímetros personales Mobile Pro, Trace Pro, C8 o el C6 de BACTrack se ofrecerán con un descuento del 50 % hasta septiembre 15, o mientras haya existencias.
*Información disponible sólo en inglés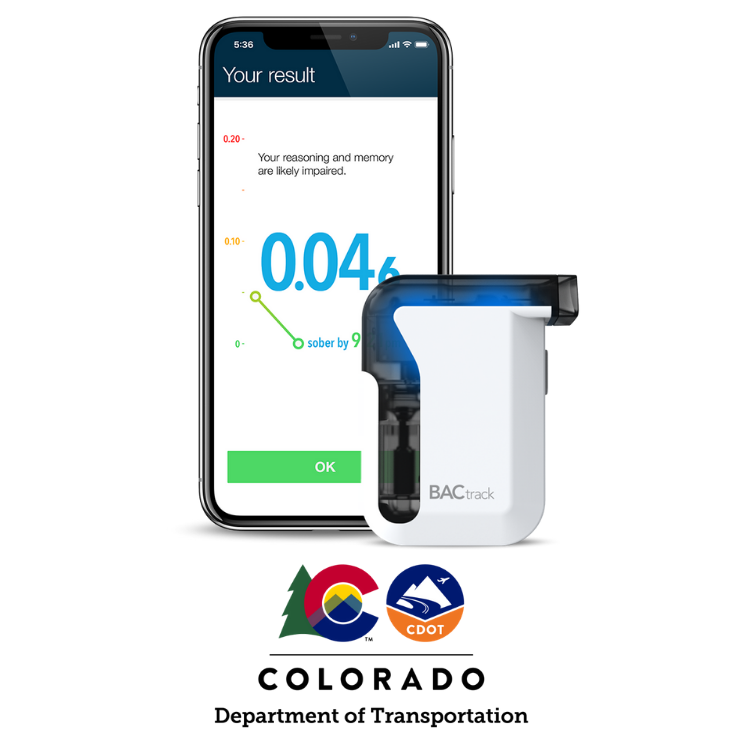 Los alcoholímetros personales Mobile Pro, Trace Pro, C8 o C6 de Backtrack son de nivel profesional, como los usados por la policía, ofreciendo a los usuarios un cálculo preciso de su BAC. La tecnología ZeroLine de BACtrack, calcula cuánto tiempo debe esperar una persona después de consumir alcohol, para que su BAC vuelva a ser cero. La tecnología ZeroLine se encuentra en el modelo C8 y también en la aplicación de BACtrack, compatible con Mobile Pro y C6.
---
Este programa también cuenta con el apoyo de Foundation for Advancing Alcohol Responsibility, Esta fundación lleva más de 25 años de liderazgo en la lucha contra conducir en estado de ebriedad y del consumo de bebidas alcohólicas por menores de edad.
Ver el informe de investigación sobre alcoholímetros personales*
*Información disponible sólo en inglés
---
Campañas anteriores de alcoholímetros personales*
*Información disponible sólo en inglés
CDOT and BACtrack hosted the "Breathalyzer Brunch" at Spanky's Roadhouse in Denver for media and 20 participants to share DUI-prevention messages and promote breathalyzer use.
CDOT, BACtrack and the Denver Police Department spoke and interacted with participates throughout brunch and supported participants as they learned how to use a BACtrack breathalyzer, tracked their consumption and discovered how drinking impacts their BAC levels.
Participants received a BACtrack breathalyzer (a $100 value) and were given Lyft ride credit for travel to and from event.
Watch this news clip from KDVR- Fox31 to see how the Breathalyzer Brunch worked.
CDOT and BACtrack provided Coloradans with an unprecedented 50% discount on personal breathalyzers. Between July and September, 2,866 Coloradans purchased discounted BACtrack breathalyzers.
CDOT's Coloradans to Blow Before Driving campaign kicked off the discount with a "beer and yoga" event designed to get people thinking about using personal breathalyzers to understand their BACs at everyday drinking events.
Watch the video to see what happened at the yoga session!
In 2017, CDOT and BACtrack launched the Before You Go, Know campaign at a Sky Sox game in Colorado Springs. See what happened at the game!
In 2016, CDOT distributed 225 BACtrack Mobiles to Coloradans. After using the breathalyzers, 84% of participants agreed owning a smartphone breathalyzer lowered their risk for a DUI/DWAI.
Check out the video and see what participants had to say about using their BACtracks.
Recursos* 
*Información disponible sólo en inglés
The CDOT Highway Safety Office provides funding to Colorado law enforcement for impaired driving enforcement, education and awareness campaigns. The Heat Is On campaign runs throughout the year, with 16 specific high-visibility impaired driving enforcement periods centered on national holidays and large public events. Enforcement periods can include sobriety checkpoints, saturation patrols and additional law enforcement on duty dedicated to impaired driving enforcement. Find more details about the campaign, including impaired driving enforcement plans, arrest totals and safety tips at HeatIsOnColorado.com.
Even after only one or two drinks, some people may be close to or exceed Colorado's DUI and DWAI limits.

05 Percent BAC for DWAI (Driving While Ability Impaired)
08 Percent BAC for DUI (Driving Under the Influence)

Even if your BAC is less than 0.05 percent, you can still be arrested for a DUI if an officer notices signs of impairment. The only absolute way to ensure you are safe to drive is to have a BAC of zero.
When considering fines, legal fees and increased insurance costs, a DUI can add up to more than $13,500.
BAC Factors
When calculating your BAC, you may find your level of impairment increases or decreases based on these factors:

Number of standard drinks
How quickly you drink
Gender
Body weight
How much food you've eaten
Body type
Fatigue
Hydration
Whatever ride-sharing service you prefer, make sure to request a sober ride before driving impaired.
Lyft is a ride-sharing service that dispatches the nearest available driver to your current location based on your phone's GPS. Simply download the mobile app to request a ride with the tap of a button.
---
Wherever you're headed, with just the tap of a button, you can get a safe ride with Uber.