Wage Conformance Request
Wage conformance request training guides & process map for Local Agency construction projects.
Construction Projects
Training Guides
Training materials are in development & will be uploaded upon completion. Training guides correspond to step numbers on the process map. 
No training guides. Please review process map for more details. 
5-2 Process US DOL SF 1444

- RCRO

5-3 Add Presumptive Wage to LCPtracker

- CRBRC

5-4 Contact US DOL to Determine Status of Request

- RCRO

5-6 Discuss Resolution with CDOT LA PE/PM

- RCRO
 State email address required to access Civil Rights documents
5-1 Prime Contractor Fills Out US DOL Standard Form 1444

5-5 Ensure Payment of Back Wages to Employee(s)
---
Process Map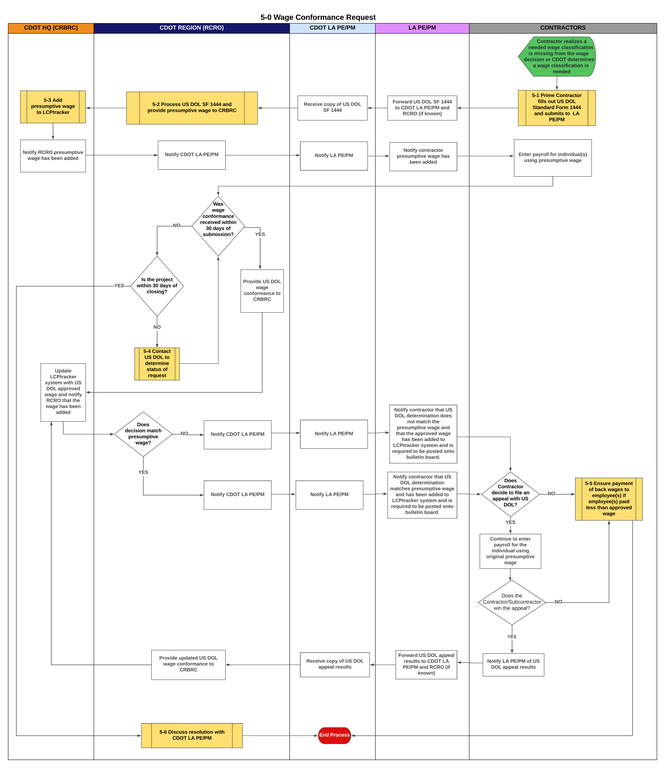 Download PDF of Wage Conformance Request process map (print-friendly)
Text version of Wage Conformance Request process map under development. 
---
Getting Help
I
f you have more detailed questions about certified payrolls, project labor compliance, or system navigation of LCPtracker, please contact your 
Region Civil Rights Specialist
 or 
Vanessa Urbina
, CRBRC Davis-Bacon & Payroll Specialist.