One of the functions of Property Management is the disposal of excess property that it no longer needs. Political subdivisions of the State are given the first opportunity to purchase the property at its estimated fair market value. If they are not interested,  CDOT can sell the property by auction or sealed bid.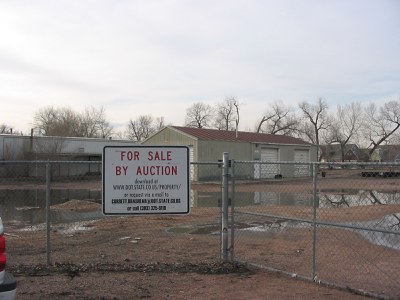 Before CDOT can sell excess real estate, it must be reviewed by various Departments within the Agency to determine if there is any transportation need for the property. If each Department agrees there is no future need for the property, an appraisal is done to determine its estimated fair market value and any additional permission necessary is secured for its sale.
At this juncture, the property is then put up for auction via sealed bid. If you are interested in reviewing our current list of available properties, click on "Current Properties for Bid". Each property has a package of important information and instructions that can be downloaded, filled out and sent back to us if you wish to participate.
Downloadable Forms:
Checklist:
Checklist:
Current Properties Available for Sale:
Below are the current CDOT properties available for sale. CDOT must first offer each property via the sealed bid auction process. If no bids are received that meet the minimum range and the property is not sold, the properties are moved to the active listing location where all interested parties may view the properties available and present an offer to purchase at any time.
To obtain complete information on any property including instructions and bid deadline, download the bid package for that specific property.  All property files are in Acrobat (PDF) format.
Bid proposals are included in each package, and should be completed and returned to the Property Management Office before the stated opening date and time.  Late bids will not be considered. Thank you for participating.
Properties offered under the Active Listing area are available at any time, just download an offer to purchase, fill out the offer and submit the offer along with your deposit for purchase to CDOT.
Real Estate for Sale via Sealed Bid Auction Process:
Active Listings of Real Estate for Sale:
Archives of Past Disposals: