Hazardous Waste Management and Demolition
The Hazardous Waste Management (HWM) Unit provides environmental clearances for CDOT projects and eliminates environmental impedances on CDOT projects to allow construction activities to proceed while complying with environmental regulations.  HWM services include remedial action, technical guidance, liaison services, contractual services and project oversight to ensure mitigation is complete. HWM assures CDOT properties are in compliance with Federal and State standards and regulations pertaining to hazardous and solid materials handling. The HWM unit provides services to assist with assessment and removal of suspect Methamphetamine Lab waste. We conduct asbestos inspections and abatements for all CDOT and ROW properties prior to any disturbance or demolition of structure materials.  In addition, we provide expertise and services for the removal of structures as needed after a property has been acquired.
Hazardous Materials and Demolition
Our area administers two asbestos and lead based paint service contracts. One contract is for asbestos inspections, lead based paint inspections (lead based paint inspections are rarely required, at this time), and air monitoring services. The other contract is for asbestos abatement only. These contracts are non-project specific, so the services can be used on any project at any time. The Checklist for Asbestos inspection and abatement and Disposal of Property has to be completed to request the services. As long as the form is thorough, including the coding string, we will process the task order, invoices, and scheduling the inspection with the Region.
Our area also administers two non-project specific statewide hazardous and solid waste management contracts. These contracts are available for the Regions to use the services within the Scope of Work on any project at any time.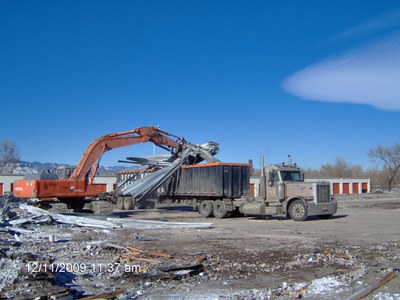 We also provide demolition services for Right of Way and Construction and contract for the removal of underground storage tanks and manage the task order/contract services for environmental work associated with tank removal or any other environmental issue.
Additionally, we also handle emergency response action on highway spills that are not handled by the Colorado State Patrol.
The Hazardous Waste Management Unit (HWMU) is available to provide technical services and guidance to CDOT statewide.  Knowledgeable staff can provide:
Emergency Response assistance;
Guidance in interpreting and applying environmental and hazardous waste regulations;
Evaluation of data sets and recommendations based on the data sets;
Coordinating inspections for possible contaminants including lead, asbestos and mold;
Identification and removal of potential methamphetamine waste;
Overseeing abatement activities of any contaminant type;
Providing demolition services;
Cleaning up Project sites to eliminate environmental hazards;
Formulating and implementing site remediation/restoration plans including removal of underground storage tanks.
The intent of the HWMU is to work directly with the Regions and in support of projects to ensure CDOT properties are in compliance with Federal and State standards and Regulations and that project schedules are not negatively impacted due to potential environmental/hazardous concerns.
Downloadable Forms
CDOT 881- ISA Form 2010 version
CDOT 881-ISA Form 97-03 Version
Disposal Request (Internal & Public)
Checklist for asbestos and demolition of property
Asbestos-Contaminated Soil Management S.O.P.
Highway Spills Guidance Documents
Guidance Document for Highway Spills
Lead-Based Paint Disclosure Forms (Internal & Public)
Lead-Based Paint Disclosure (Rentals)
Lead-Based Paint Disclosure (Sales)
Lead-Based Paint Obligations Forms (Internal & Public)
Lead-Based Paint Obligations of Seller
Lead-Based Paint Obligations of Landlord
Hazardous Materials Spill Procedures
Region 3 Hazardous Spill procedure
Hazardous Materials Document Guide
Meth Recognition Video
http://www.youtube.com/watch?v=kF25d0Gnvjo