Join the Conversation in our Telephone Town Hall Series.
Region-specific telephone town hall discussions will focus on the transportation issues and projects of importance across the state.
CDOT is developing a Freight and Passenger Rail Plan.
Colorado's multimodal freight and rail systems benefit our daily lives by delivering the goods we order and the things we need and depend on, on time, every day, no matter where.
CDOT is also developing a Multimodal Freight Plan
Made in Colorado, Shipped to the World. Colorado's multimodal freight and rail systems link people and businesses in Colorado and across the globe, create jobs, and play a critical role in Colorado's economic competitiveness.
The Road to the Future Is Not Only a Road.
Colorado's multimodal freight and rail systems connect Colorado's communities, provide diverse work opportunities and living choices, and enable technology and innovation that benefits our state.
1 in 6 jobs in the Colorado economy rely on safe, efficient, and reliable freight transportation.
1 export-oriented manufacturing job supports 3 other jobs in Colorado.
$155.8 billion or 1/3 of Colorado's economy is generated by freight and freight-reliant industries.
Previous
Next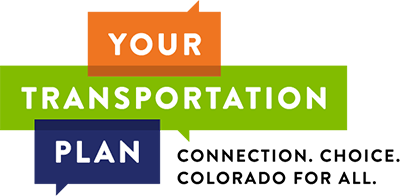 Your Transportation Plan
Join our two-way conversation to help improve the state of transportation in Colorado.
Statewide Transportation Plan
See our transportation vision for Colorado and the strategic direction necessary to achieve it.
Regional Transportation Plans
Know what's happening in your region and how it will ultimately impact the larger Statewide Transportation Plan.
Other CDOT Plans
See our multi-modal plans for transit, safety, operations, freight, rail, bicycle and pedestrian, aviation and asset management.