CDOT Pays Employees to Get Their CDL
Obtaining your CDL through the Colorado Department of Transportation
This piece highlights the importance of the skills learned in a CDL class and how they benefit maintenance and operations workers. Further, this article educates the general public about the training program and informs those interested in joining the force.
Success begins here: the Colorado Department of Transportation provides free Commercial Driver License (CDL) training for employees such as snowplow drivers and other much-needed heavy equipment operators. Our goal is to reduce barriers, such as cost, to attract skilled employees looking for meaningful careers.
"Don't be afraid to start," says Kyle Cordova, CDOT training specialist. "We're going to teach you everything you need to know. At the end of three weeks, you're with us, you're going to be one of the top-performing operators in these vehicles."
What is a Commercial Driver's License?
A CDL is a license to operate any commercial vehicle weighing 26,001 pounds or more. These licenses are beneficial and required for the people who drive big trucks in our Division of Maintenance and Operations (DMO). This includes snowplow operators, heavy equipment operators and many other positions. And the CDL class? Well, that is where the fun begins (plus, where students can gain additional skills and knowledge to ensure they are as prepared as possible).
Our main priority is safety, and our employees' health and success are woven into our daily mission. We want our drivers to have the skills they need to grow and accomplish big things in their careers — all while keeping themselves and other drivers safe on the road.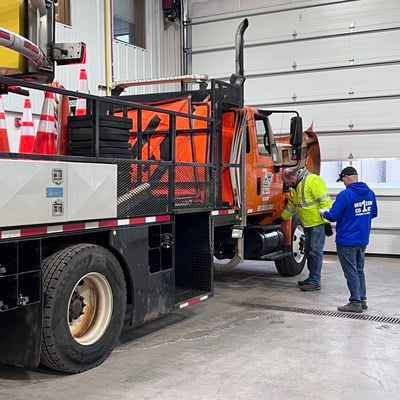 CDOT Classes & CDL Requirements
CDOT's CDL Training Academy teaches students all the skills needed — and then some — to operate commercial vehicles effectively and manage situations they'll encounter on the road. Students learn about equipment, regulations and safety per the Federal Motor Carrier Safety Administration (FMCSA) through a combination of classroom and behind-the-wheel training.
The classroom portion is split into three modules. Module 1 covers general knowledge of combination vehicles with two or more components exceeding 25,000 pounds. Module 2 discusses vehicles with a fixed trailer or straight trucks. Lastly, in Module 3, students learn the ins and outs of all other vehicles that carry more than 16 passengers or transport hazardous materials.
After completing the classroom portion, students move into hands-on training, where they get behind the wheel. The entire training takes three weeks to complete.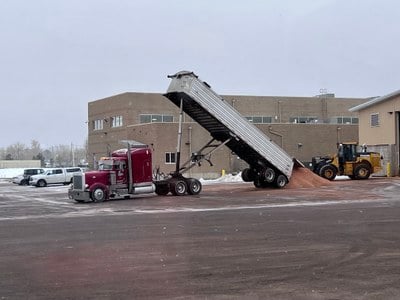 Covering the CDL Cost
Obtaining a CDL through a private company can cost students thousands of dollars. CDOT, on the other hand, offers these classes at no cost in the hopes that we can be a starting point for your career in this industry and grow with our organization.
"I was looking to get my CDL prior to [working for CDOT], and it was going to cost $6,000 to $10,000 for me to do it privately," says Transportation Maintenance Worker Jacob Froming. "CDOT allows you to do your training, get your CDL, and they have faith in their training program that you will stay with CDOT."
More About CDOT Jobs
Want to learn more about CDOT's CDL training program? Visit our careers page at careers.codot.gov to see how you can contribute to our workforce today.