CDOT's Recruitment Overdrive: How We Find — and Keep — Our Valuable Employees
CDOT is proud to offer many opportunities and benefits to employees.
CDOT is proud to offer great benefits and opportunities for growth to our new hires. Interested in becoming a part of the CDOT family? Learn more about jobs with CDOT.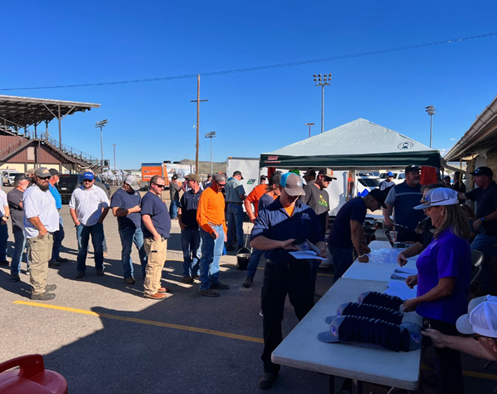 CDOT, like many industries last year, saw an increase in vacant positions compared to previous years and knew we needed to implement an aggressive strategy to counteract sparse resources heading into the 2023/2024 winter season. With the safety of the traveling public largely in our team's hands, CDOT devised a robust, innovative plan to recruit, retain and train professional highway maintainers — including higher salaries, more training and employee housing in particularly high-cost areas.
CDOT employee "roadeo"
As part of CDOT's ongoing recruitment strategy for highway maintainers, our Human Resources Department attended nearly 40 career fairs across the state in 2023, including the Statewide Roadeo. CDOT hosts regional Truck Roadeos in the spring and summer each year where maintenance employees compete against one another by taking a written exam, performing a pre-trip vehicle inspection and then testing their skills on the tandem, motor grader, loader and skidsteer. The top first and second place winners from each region then attend the annual State Truck Roadeo to compete against all the winners from CDOT around the state. This year, the State Truck Roadeo was open to the public to learn more about job opportunities and see CDOT crews in action.
CDOT employee wages
CDOT continues to increase salaries of its highway maintainers, in addition toproviding many benefits that come with working for the state. Over the past three years, employees have received a 3% raise each year and CDOT has increased its firstyear wages by an additional 7.5% for its core maintenance positions. For entry level maintenance positions, starting pay has also increased by 2.5% with a 5% training pay increase in the first year.
Life in the mountains and employee housing stipends
Much of the work CDOT does to support highway operations in the winter takes place in and around Colorado's mountain communities. To help retain and recruit highway maintainers in these high-cost areas, CDOT has been providing housing stipends for selected areas in the state since 2018. In light of changes in the past few years, CDOT recently completed a comprehensive new analysis of market conditions, which supported a recent decision to extend stipends to a broader range of geographic areas. Stipends are up to $2,000 monthly, based on the essential employees' work location.
Although housing stipends further the ability for employees to continue to rent or buy houses where they live and work, Colorado continues to lack an inventory of homes. As a result, CDOT is building new workforce housing that will allow essential employees to live within 30 minutes of their assigned duty area. Following a pilot project to add workforce housing in Glenwood Springs, upcoming capital projects are underway in Frisco and Fairplay. Projects are also planned in Basalt and Gypsum as part of a broader state effort at Dowd Junction.
Adding new family members
Through these extensive efforts, CDOT was able to lower our maintenance and operations vacancy rate from 37% (Aug. 2022) to 18% (May 2023). We continue to recruit passionate and hardworking employees for a variety of positions within the Division of Maintenance and Operations (DMO). To learn more about CDOT jobs and incentives, visit our careers page.
"We are building off of the successes we saw last year and doubling down on our efforts this upcoming winter season."

- CDOT's Division of Maintenance and Operations Director John Lorme