Well-Equipped: CDOT's Innovations in Winter Highway Safety & Training
CDOT is preparing for winter, enhancing team training, and upgrading equipment and facilities.
CDOT DMO team is hard at work preparing for the winter season - enhancing team training, and upgrading equipment and facilities.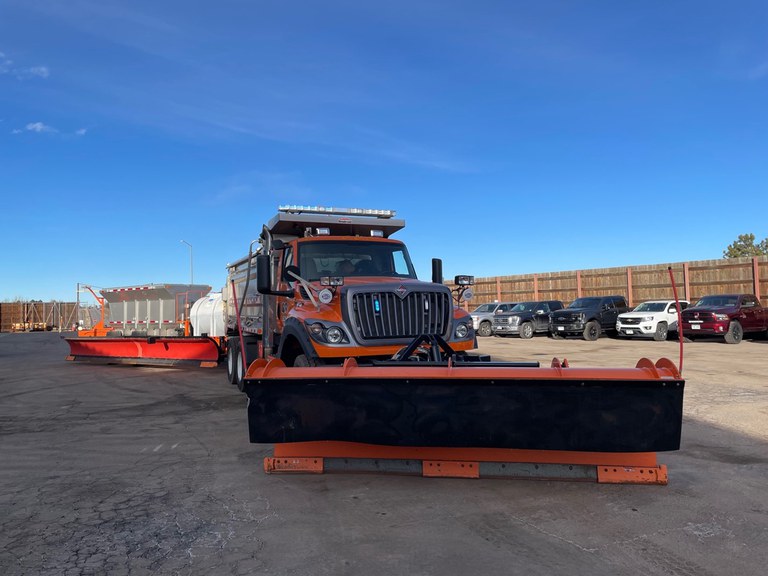 When it comes to ensuring safer highways and a smooth winter season, the Colorado Department of Transportation's Division of Maintenance and Operations is making major strides in enhancing team training and upgrading our equipment and facilities. As we head into the upcoming winter season, here are a few of the things CDOT has been working hard on to make sure we can deliver the best service possible to the public.
Training
CDOT has established a Maintenance Training Academy which offers over a dozen training courses that help to advance our highway maintainers' careers. Below are a few training courses that directly benefit the traveling public during the winter season.
Commercial Driver's License (CDL) program
CDOT provides free (yes, FREE) CDL training to employees, reducing barriers to attracting skilled individuals interested in becoming snowplow and heavy equipment operators. The CDL Training Academy equips students with the skills needed to operate commercial vehicles and handle real-world situations. Between March 2022 and April 2023, more than 200 snowplow operators completed CDOT's CDL training with a 90% retention rate.
Avalanche training
CDOT takes safety to the next level with specialized avalanche training programs, ensuring our crews are prepared for the unique challenges of winter in Colorado. From hosting training sessions on Howitzer equipment to general explosives training, CDOT and the Colorado Avalanche Information Center have 80 Type I Explosive license holders across the state, ready to tackle this avalanche season. Click here for additional information about CDOT's maintenance and operations training programs. Find information about jobs with CDOT here.
Updated equipment and innovation
This season, CDOT is also introducing various equipment upgrades and innovations, including:
Improved lighting standards: CDOT has enhanced visibility and safety by adding wing lights to snowplow blades, preventing right-side passing impacts and protecting both our equipment and the traveling public.
Synched lighting: CDOT has invested in unified lighting functions that will be phased into our entire fleet of maintenance vehicles. This technology ensures emergency vehicles flash in tandem, delivering a clear, safe and unified message to motorists during traffic incidents.
Reflective emergency graphics: CDOT vehicles now feature diagonal chevron graphics with retroreflective material, directing attention to identifying information on the vehicle. This improves visibility and helps prevent crashes.
Efficiency boost: CDOT is constantly striving to improve efficiency by adding more tow plows to our fleet and replacing older snowplows with new tandem winged plows. These upgrades allow plows to carry up to twice as much snow per load, increasing overall efficiency.
New avalanche equipment: CDOT is improving safety with the installation of O'bellx and Gazex fixed avalanche control systems at critical locations. These systems offer more efficient avalanche control, ensuring the safety of CDOT crews and the traveling public.
Eisenhower Johnson Memorial Tunnels Operations Center upgrade
CDOT is also working on modernizing our infrastructure. The Eisenhower Johnson Memorial Tunnels Operations Center, which is over 40 years old, is getting a technological makeover. We're replacing decades-old copper wires with fiber optic cables and installing new cameras and screens — all with the goal of enhancing the speed and quality of the monitors within the tunnel operations center. In this context, every second and the quality of the video feed are critical when identifying potential road hazards. These upgrades will improve traffic flows and response times to incidents within the tunnels. In addition, CDOT is constructing a new maintenance facility, set to be complete by fall 2023, to house equipment and protect it from the elements. This ensures that snow-fighting equipment is readily available to clear I-70.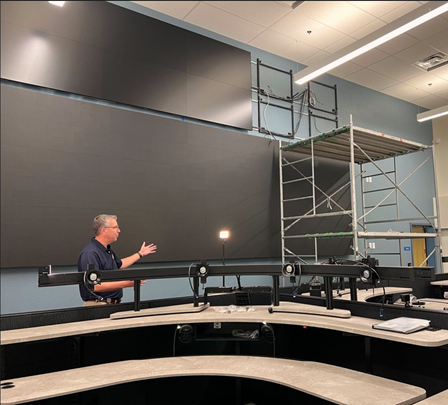 CDOT's dedication to training, equipment innovation, and modernization ensures safer highways and more effective responses to winter challenges, all for the benefit of the
traveling public.
"Safety is our first priority. We are dedicated to training, equipment innovation and modernization to ensure that our highways are safe and our response to winter challenges is effective."

- CDOT's Division of Maintenance and Operations Director John Lorme