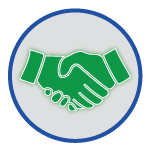 The Colorado Remote Tower Project is made possible through strong public and private partnerships with the defined goal of making our skies safer and more efficient. The current group of partners brings together the desires and needs, funding, and technological expertise to pioneer and develop leading-edge technology that will propel the State of Colorado and the National Airspace System into the next generation of air traffic control.
Searidge Technologies



Searidge develops innovative technology to improve safety and efficiency in the aviation market. With technology at over 35 sites in 20 countries, we are a global leader and preferred partner for Remote Tower and Digital Airport solutions. Through operational enhancements, collaboration, and automation, our team helps our customers proactively transform the way they offer and deliver services to meet changing demands.

As a pioneer in the Remote Tower market for over 10 years, Searidge prides itself on our series of industry firsts including the first operational video system in an ATC tower, the first to offer seamless video-stitching for panoramic views, the first certified medium-capacity remote tower, and first to introduce artificial intelligence for ATC and airport efficiency. Our experience and innovation have led to the most advanced Digital Tower solution on the market.

Searidge is looking forward to working with the FAA and CDOT Aeronautics to certify one of the first Remote Towers in the United States," said Moodie Cheikh, Co-founder, and CEO, Searidge Technologies.

"We are confident in our team and our technology to deliver a flexible solution that will not only meet the needs of FNL but also demonstrate how such a system could be used around the country to provide safe, cost-effective control services.

William E. Payne & Associates

William E. Payne & Associates has been providing engineering and consulting services related to funding, design, and construction of Airport Traffic Control Towers (ATCT) since 1991. The firm has designed ATCTs in Alaska, Colorado, Florida, Louisiana, Maryland, Massachusetts, Mississippi, Montana, Texas, and Utah. The firm's capabilities span all phases of project development, starting with the earliest conceptual studies and continuing through comprehensive planning and design of the ATCT.

Key to the success of the firm's ATCT projects is a thorough knowledge of Federal Aviation Administration (FAA) siting and design requirements and the ability to match those requirements to the objectives of our clients.

William E. Payne & Associates was key to the success of the Colorado Surveillance Project.  This project deployed Wide Area Multilateration (WAM)/ADS-B surveillance, providing secondary radar services to eight Colorado mountain airports. This project was instrumental in eliminating radar coverage gaps once found in Colorado's Rocky Mountains. The Colorado Remote Tower Project will utilize the same technology developed for the Colorado Surveillance Project.

Federal Aviation Administration

Created in 1958, the Federal Aviation Administration (FAA) is responsible for the governance of all aspects of civil aviation in the United States. The FAA will manage all aspects of the Colorado Remote Tower Project. The primary roles of the FAA include:

Regulating civil aviation to promote safety
Encouraging and developing civil aeronautics, including new aviation technology
Developing and operating a system of air traffic control and navigation for both civil and military aircraft
Researching and developing the National Airspace System and civil aeronautics
Developing and carrying out programs to control aircraft noise and other environmental effects of civil aviation
Regulating U.S. commercial space transportation

National Air Traffic Controllers Association

The National Air Traffic Controllers Association (NATCA) is a key member of the Colorado Remote Tower Team.  This collaborative team also includes FAA NextGen and the State of Colorado.  NATCA's belief is that this technology should be thoroughly evaluated to see what potential uses and possible enhancements it could add to the National Airspace System, already the safest and busiest air traffic system in the world. NATCA is supplying the subject matter experts (SME) during all phases of the testing of the remote tower system at the Northern Colorado Regional Airport (FNL) to evaluate the system's efficiency. During the testing process, NATCA will provide the technical expertise from the air traffic controller standpoint and will work towards ensuring that the system meets the rigorous standards required for air traffic controllers.

Northern Colorado Regional Airport

The Northern Colorado Regional Airport was identified as the official test facility for the Colorado Remote Tower Project. The airport was constructed in 1963 through a federal grant program and is jointly owned and operated by the cities of Fort Collins and Loveland. FNL is one of 14 Colorado airports providing commercial air service, and it serves as a northern regional gateway for commerce and emergency access. According to data collected by the Federal Aviation Administration, the Northern Colorado Regional Airport is the state's busiest airport without an air traffic control tower. 

FNL is situated on just over 1,000 acres located approximately 9 miles southeast of Fort Collins, 5 miles northeast of Loveland, and 50 miles north of downtown Denver. Boyd Lake State Park lies just west of the airport, with close and convenient access to Interstate 25.

The Northern Colorado Regional Airport has a two-runway configuration with an 8,500 foot long, 100' wide main runway (15/33), and one crosswind runway (6/24). The main runway has a full-length parallel taxiway (A) with five taxiway connectors leading to a commercial service and general aviation aircraft apron.

Colorado Division of Aeronautics

CDOT's Division of Aeronautics is tasked with supporting Colorado's multi-modal transportation system by advancing a safe, efficient, and effective statewide air and space system through collaboration, investment, and advocacy. The vision of the CDOT Division of Aeronautics is to be the leading state aviation organization by enhancing the efficiency, economic benefit, and sustainability of Colorado's air and space system through funding, innovation, education, and pioneering initiatives.

Sturgeon Electric

Sturgeon Electric has been contracted to provide comprehensive electrical utility and telecommunications construction services for the Colorado Remote Tower Project. 

Sturgeon Electric provides commercial and industrial (through the C&I division) electrical construction services to customers throughout Arizona and Colorado, and transmission and distribution (through the T&D division) electrical construction services to customers throughout the western United States.  Sturgeon Electric serves customers in multiple markets, including aviation and aerospace.

Serco Air Navigation Services

Serco is the largest non-government provider of air navigation services in the world, delivering air traffic control for small regional airports as well as the largest commercial air hub on the globe.

Serco provides a range of critical air navigation services and builds domestic air traffic control capacity to support air traffic growth in partnership with its aviation customers. Serco is the only commercial provider to encompass the three disciplines of tower operations, approach control, and en-route centers.

Serco enables its customers to develop a world-class team of air traffic controllers and continually update skills to keep up with the latest technologies and international standards. Serco consistently exceeds critical metrics including capacity growth, runway throughput, safety, program delivery, and people development.

Serco's capability is extensive and includes air traffic control, air traffic engineering, safety, training and simulation, strategic planning and program management, meteorological services, IT services and aeronautical information management, and communication, navigation, surveillance/air traffic management (CNS/ATM).