Revitalizing Main Streets
About the Program
As a part of Colorado's COVID-19 Recovery Plan, the Revitalizing Main Streets Program was made possible through a $30 million allocation from the state legislature in March 2021. This program is intended to help communities across the state implement transportation-related projects that improve safety and yield long-term benefits to community main streets. When defining a main street, CDOT is aiming to support areas in or adjacent to community-focused, downtowns where people work, dine and shop. These routes help form a specific region's identity and act as the major economic hub in many towns and cities across Colorado. 
Grant Applications
The Revitalizing Main Streets Program provides two separate grant opportunities to support local communities as they find innovative ways to reuse public spaces and help businesses reopen safely, while improving multimodal safety and accessibility along urban arterials. Read below for specific information about each grant opportunity: 
Grant Opportunity 1
Larger Safety Infrastructure Grants
Following an exhaustive review process, the Colorado Department of Transportation selected sixteen transportation projects across the state worth approximately $22 million as the awardees from the Revitalizing Main Streets Program Larger Safety Infrastructure Grant opportunity. The awardee announcement was made in August of 2021. 
When this grant opportunity was announced in March of 2021, applicants had until May 14, 2021 to submit applications. A total of 72 applications were received and reviewed in-depth by CDOT. Click here to see the list of the sixteen selected projects and click here to read the full news release.
We had many strong applications for limited funding. However, thanks to SB-260, there is now ongoing financial support for RMS, and we anticipate releasing the NOFO for additional funds later in fall 2021.
Award Criteria:
Applicants may be awarded up to $2 million to improve user safety along urban arterials or main street corridors, especially for vulnerable users such as pedestrians, bikers, motorcyclists, transit users, elderly adults, and people with disabilities. This grant is a statewide version of the Safer Main Streets grant offered in CDOT Regions 1 and 4 within the DRCOG Metropolitan Planning Organization boundary in fall 2020.
Applicable roadways must be non-freeway corridors that accommodate multiple modes of transportation. This opportunity is open to state highway facilities and local roads. This grant includes the following safety and economic recovery goals:
Reduce fatal and serious injury crashes on the region's transportation system
Support a transportation system that safely accommodates all modes of travel (i.e. driving, taking the bus or any transit system, walking, and biking)
Improve transit access and multimodal mobility
Support the development of connected urban/employment centers and multimodal corridors
Provide safe access to opportunity and mobility for residents of all ages, incomes and abilities — including vulnerable users
Help communities adjust to the new normal travel patterns caused by COVID-19
Play an important and immediate role in job creation/retention and small business investment
Grant Opportunity 2
Small Multimodal & Economic Resiliency Projects- Paused until early 2022

IMPORTANT UPDATE: As of October 1, 2021, the Small RMS Grant Opportunity (up to $150k) will have a short pause on accepting applications through the upcoming winter months. CDOT is taking this approach to ensure there is funding available for projects in spring and early summer of 2022.
An updated Opportunity 2 RMS NOFO will be released in early 2022. That information will be posted on this web page and shared with anyone who has signed up for the program newsletter. Please contact [email protected] if you want to be added to the email list or if you have any questions.
---
Previous grants were awarded based on the following multimodal mobility and economic recovery goals (note: this criteria is subject to change with the future NOFO):
Encouraging active, multimodal transportation, including better access and safety for pedestrians, cyclists and scooters.
Promoting public health and safety by encouraging social distancing and/or providing publicly available personal protective equipment (PPE) and sanitation stations
Improving equity and public space access for low-income and disadvantaged users
Expanding economic opportunity and development in a regionally-equitable way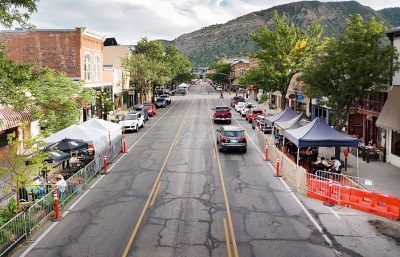 Applicant Eligibility Requirements
Applicants must be eligible to be direct recipients of federal transportation funds. These include local governments, CDOT and other governmental agencies. Nonprofits and transportation management associations/organizations are not directly eligible applicants for projects, however they may partner with a governmental agency. Note: Private, for-profit companies (e.g. contractors, suppliers or consultants) are not eligible.
---