Revitalizing Main Streets
About the Program
As a part of Colorado's COVID-19 Recovery Plan, the Revitalizing Main Streets Program was made possible through a $30 million allocation from the state legislature in March 2021. This program is intended to help communities across the state implement transportation-related projects that improve safety and yield long-term benefits to community main streets. When defining a main street, CDOT is aiming to support areas in or adjacent to community-focused, downtowns where people work, dine and shop. These routes help form a specific region's identity and act as the major economic hub in many towns and cities across Colorado. 
As Colorado recovers from COVID-19 and returns to a new normal, this program provides two separate grant opportunities to support local communities as they find innovative ways to reuse public spaces and help businesses reopen safely, while improving multimodal safety and accessibility along urban arterials.
Grant Applications
CDOT is launching this grant program with two separate applications. Based on the descriptions below, applicants should determine which Revitalizing Main Streets applications best fits their project goals and scope. All potential applicants are encouraged to attend one of two Pre-Application Workshops. Both workshops will cover grant opportunities and the content will be the same at each.
RSVP: Tuesday, April 6 | 2-4 p.m.    RSVP: Monday, April 12 | 2-4 p.m.
Grant Opportunity 1:
Larger Safety Infrastructure Grants
(About $22 million is available statewide*)
Applicants may be awarded up to $2 million to improve user safety along urban arterials or main street corridors, especially for vulnerable users such as pedestrians, bikers, motorcyclists, transit users, elderly adults, and people with disabilities. This grant is a statewide version of the Safer Main Streets grant offered in CDOT Regions 1 and 4 within the DRCOG Metropolitan Planning Organization boundary in fall 2020.
Applicable roadways must be non-freeway corridors that accommodate multiple modes of transportation. This opportunity is open to state highway facilities and local roads. This grant includes the following safety and economic recovery goals:
Reduce fatal and serious injury crashes on the region's transportation system
Support a transportation system that safely accommodates all modes of travel (i.e. driving, taking the bus or any transit system, walking, and biking)
Improve transit access and multimodal mobility
Support the development of connected urban/employment centers and multimodal corridors
Provide safe access to opportunity and mobility for residents of all ages, incomes and abilities 

—

including vulnerable users
Help communities adjust to the new normal travel patterns caused by COVID-19
Play an important and immediate role in job creation/retention and small business investment
Opportunity 1: Rules & Selection
Applications can be submitted after the first Pre-Application meeting, starting Wednesday, April 7, 2021, and will be accepted until May 14, 2021.
For Grant Opportunity 1, applicants can only submit one application. Previous CDOT grant awards in the last year will be considered in overall scoring.
Grant Opportunity 2:
Small Multimodal & Economic Resiliency Projects
(About $9 million available statewide*)
Applicants may be awarded up to $150,000 per project to support infrastructure projects that provide improved spaces for mobility, community activities and economic development in the wake of the COVID-19 pandemic. This grant is an updated continuation of the previous Can Do Revitalizing Main Streets grant. Please note, the CDOT Can Do webpage, email and application have been replaced with this new Revitalizing Main Streets program.
This grant includes the following multimodal mobility and economic recovery goals:
Encouraging active, multimodal transportation, including better access and safety for pedestrians, cyclists and scooters.
Promoting public health and safety by encouraging social distancing and/or providing publicly available personal protective equipment (PPE) and sanitation stations
Improving equity and public space access for low-income and disadvantaged users
Expanding economic opportunity and development in a regionally-equitable way
Applications can be submitted immediately, but we still encourage first-time applicants to attend a Pre-Application meeting and send questions to [email protected]. Applications will be reviewed weekly until funds are exhausted.
For Grant Opportunity 2, applicants can submit multiple applications and may be awarded up to $250,000 in this category. Revitalizing Main Streets applications awarded prior to March 19 will also be included in this maximum amount. Projects awarded under the Safer Main Streets program do not count toward the maximum award.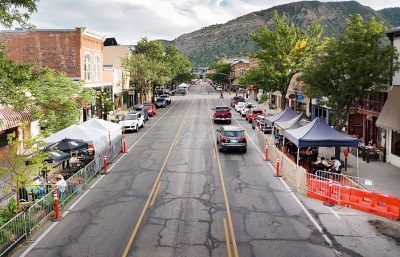 Opportunity 2: Frequently Asked Questions (FAQ)
Opportunity 2: Rules and Selection
*Totals for each grant opportunity will be reassessed in May 2021 depending on expressed interest. Additionally, approximately $900,000 remains from the initial Revitalizing Main Streets program, making the total amount for Grant Opportunity 2 approximately $9 million.
Applicant Eligibility Requirements
Applicants must be eligible to be direct recipients of federal transportation funds. These include local governments, CDOT and other governmental agencies. Nonprofits and transportation management associations/organizations are not directly eligible applicants for projects, however they may partner with a governmental agency. Note: Private, for-profit companies (e.g. contractors, suppliers or consultants) are not eligible.
---
Revitalizing Main Streets Grant Awardees To Date
Please view the map below and learn more about the Can Do grant awardees throughout the state by clicking on the dots on the map below.
Map Key:
Revitalizing Main Streets Larger Safety Infrastructure Grants (announced Summer 2021) will be in green

Revitalizing Main Streets Smaller Multimodal and Economic Resiliency Grants are in blue