Transit Emissions Dashboard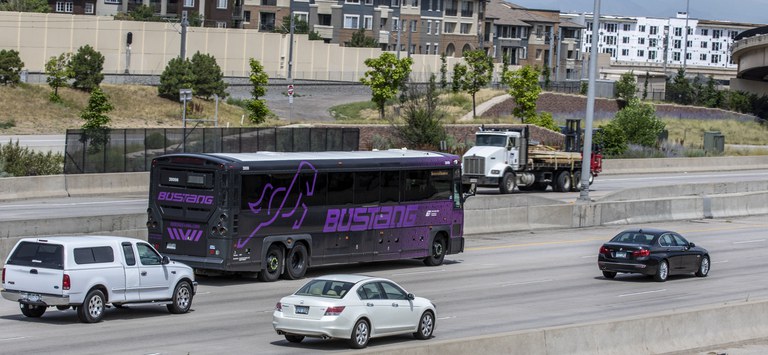 About the Dashboard
The Colorado Department of Transportation's interactive Transit Emission Dashboard tracks and quantifies greenhouse gases (GHG) emitted by transit vehicles in the State of Colorado. This user-friendly dashboard displays emission reductions associated with replacing single occupancy vehicle trips with transit trips, along with the progression from internal combustion buses to zero emission buses.
The dashboard serves as visual accountability for emission reduction goals set forth by Colorado HB19-1261: Climate Action Plan to Reduce Pollution. The dashboard tracks the state's path toward a fully zero emission transit fleet.
Transit Emissions Dashboard
The Transit Emissions Dashboard quantifies the year-over-year reductions in GHG emissions associated with public transit vehicles and serves as one of many performance metrics to aid CDOT in quantifying GHG emission reductions from the transportation sector and track progress towards House Bill 19-1261 emission reduction goals. Consistent with HB 19-1261, statewide greenhouse gas emissions will include "carbon dioxide, methane, nitrous oxide, hydrofluorocarbons, perfluorocarbons, nitrogen trifluoride, and sulfur hexafluoride, expressed as carbon dioxide equivalent."
Disclaimer: The Transit Emissions Dashboard is updated annually.
Emission Goals
The dashboard seeks to track progress in the transformation of Colorado's transit fleet to zero emission vehicles as well as the replacement of SOV trips with transit trips. CDOT is committed to reducing emissions that are created in the state's transit system. HB19-1261 has set forth statewide GHG emission reduction goals of:
26% by 2025
50% by 2030
90% by 2050 (compared to a 2005 baseline)
CDOT has received funding from the Volkswagen Clean Air Act Settlement to aid in the electrification of vehicles in the United States and also applies state and federal grant resources to this effort. The goals set forth by HB19-1261, and funding from the Volkswagen Clean Air Act Settlement, are catalysts in the conversion of statewide transit fleets to zero emission vehicles (ZEVs). 
Signed by Governor Jared Polis in 2021, the Colorado SB21-260: "Sustainability of the Transportation System" supports the statewide transition to zero emission transit vehicles with the creation of a Public Transit Enterprise. This bill is estimated to generate $134.9 million over 11 years for public transit funding, and funds are anticipated to become available starting in July of 2022.
---
Project Background