CO 64 Rangely East/US 40 Surface Treatment
Project Facts
Cost: $5 Million
Contractor: 

A & S

 
Timeline: April 2021 to June 2022
Location: 

CO 64 from MP 19.8 – 28 and US 40 from MP 0 – 7 in Moffatt & Rio Blanco Counties
Project Map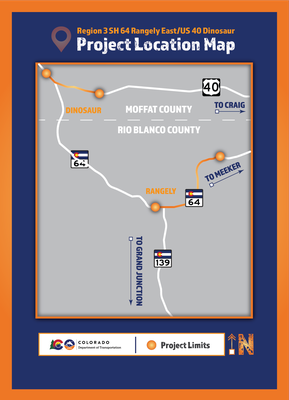 About the Project:
The Colorado Department of Transportation is starting back to work after the planned winter shutdown for the Highway surface treatment and upgrade project on CO 64 and US 40. During the 2021 construction season, crews worked on overlay on both roadways, pavement markings, and bringing guardrails up to new standards. 
Beginning the week of Monday, April 25, 2022, motorists can expect increased oversize/overweight truck traffic on these routes:
US-40 between Craig and Dinosaur
Deserado Mine Road
CO-64 between Rangely and Meeker
There will also be asphalt milling in and around the Town of Dinosaur. Watch for trucks, heavy equipment, and construction workers entering the roadway along Brontosaurus Boulevard.
Motorists should be especially cautious on CO 64 between mileposts 28 and 30, where trucks will be making wide turns onto the highway. Please drive at or below the posted speed limit. Pay close attention to "Trucks Turning Today" flashing message boards, which are updated daily.
---
Work Schedule
Daytime work hours range from 7 a.m. to 7 p.m., Monday through Friday

No night or weekend work
---
Traffic Impacts
Anyone traveling this corridor can expect throughout the project:
Lanes shifts of existing roadway alignment

Single-lane, alternating one-way traffic through the work zone

Flaggers will direct single-lane, alternating traffic

Width restrictions of 10 feet on CO 64 and 12 feet on US 40 will be in place 24 hours a day

Speed reductions will be in place of 35 mph during working hours