Belleview Overlay from University to I-25
About the Project
This project involves involves milling and overlay of Belleview Ave between I-25 and University, as well as improving curb ramps to meet ADA requirements.

Work on this project will improve driving conditions and safety along this 3-mile stretch of Belleview Avenue, including concrete milling and overlay, concrete sidewalk and curb ramp improvements, and roadway re-striping.

Beginning in May, crews will complete concrete work on the curb ramps and sidewalks. Once concrete work is completed, which is anticipated by the end of June, crews will begin resurfacing Belleview Avenue. Motorists can expect daytime auxiliary lane closures during concrete work and nighttime lane closures during resurfacing work. Crews will work from University Boulevard eastbound to I-25.
Project Facts
Cost: $3.2 million
Contractor: 

Brannan Sand & Gravel

Timeline: May - late August 2020
Location: 

Belleview Ave between I-25 and University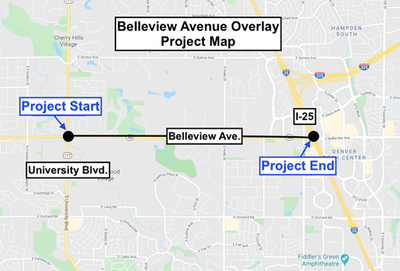 Traffic Impacts
Motorists should expect single lane closures during work hours.

Daytime auxiliary lane closure hours for concrete work are Monday through Friday from 8:00 a.m. to 5:00 p.m.

Nighttime lane closure hours for resurfacing work are Sunday night through Friday morning from 6:00 p.m. to 6:00 a.m.

There will be no speed reductions or oversize/overweight restrictions.