I-70 Glenwood Canyon Sign Replacement
Work this Week
Work the week of June 14-18, 2021: Motorists can plan for an east and westbound single lane closure with crews present in the rest areas.
About the Project
The Colorado Department of Transportation and contract partner Work Zone Traffic Control will begin a sign project on I-70 in Garfield and Eagle Counties. The project will take place from Mile Point 118, just east of Glenwood Springs, and will continue for 13 miles through the canyon to MP 131.
Work will include the removal of worn out signs, installation of 300 new signs and installation of 160 new posts. New signs will be installed at approximately 300 locations along I-70, on four on/off ramps and at rest areas within the project limits. The new regulatory, warning and guidance signs will have better reflectivity at night to hep motorist navigate the highway safely.
Project Facts
Cost: $

525,000

Contractor:  Work Zone Traffic Control
Timeline: October 2020 - late April 2021
Location: 

On I-70 east of Glenwood Springs, Garfield and Eagle County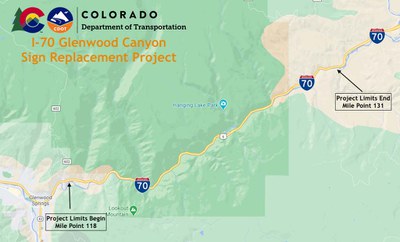 I-70 Glenwood Springs Sign Replacement Work Zone.
(Click map to enlarge.)
---
---
Proposed Work Schedule


Work is scheduled to begin on October 19 with a winter shutdown from November 2020 until March 2021. The anticipated completion date is April 2021. Hours of operation are 7 a.m. to 7
p.m., Monday through Friday.
---
Traffic Impacts


Motorists can plan for east and westbound shoulder closures,
single lane closures and reduced speed.