US 24 Bridge Replacement east of Peyton
Project Facts
Cost: $1-5 Million
Contractor:  Tezak Heavy Equipment
Timeline: May - October 2021
Location: J

ust east of Peyton on US 24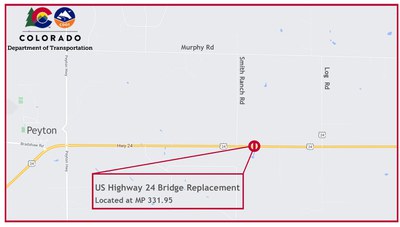 US 24 Bridge Replacement Project Map
(Click image to enlarge)
Project Complete!
The Colorado Department of Transportation, in cooperation with Tezak Heavy Equipment, will be moving forward with a bridge replacement project on US Highway 24 east of Peyton. Work will begin May 3 and continue through September 2021.The bridge replacement will take place between MP 331.7 and MP 332.2.
The project will begin by building a bypass around the bridge structure at MP 331.95. After building the bypass, crews will work on replacing the existing structure with two concrete culverts. The new culverts will improve the safety and functionality of the roadway which will enhance driving conditions.
---
Work Schedule
Working hours will be from 6:30 a.m. to 5 p.m. Monday through Friday.
---
Traffic Impacts
Beginning Monday, May 3, through October motorists will encounter road work on CO 24. Traffic impacts include:

Speeds will be initially reduced to 55 mph in the work zone. Once flaggers are required to detour traffic onto the bypass, speeds will be reduced to 40 mph.
Traffic fines will double in the work zone. Motorists should slow down as they approach the work zones, drive with caution, allow extra space between vehicles, and give themselves extra travel time.