US 34 ADA Curb Ramp Improvements in Akron, Otis, Yuma and Wray
Project Facts
Cost: $1.4 Million
Contractor: 

Castle Rock Construction

Timeline: April - July 2021
Location: US 34 in 

Akron Otis Yuma and Wray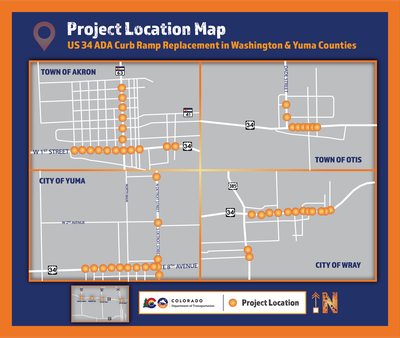 About the Project:
The Colorado Department of Transportation will begin work to improve pedestrian walkways with the installation of American Disabilities Act (ADA) complaint curb ramps at various locations throughout Washington and Yuma Counties, specifically in the Cities of Wray and Yuma and the Towns of Akron and Otis. Work will begin in Akron and once completed will move east to Otis, Yuma, and Wray.

"Improving the sidewalks and curb access in eastern Colorado greatly improve multimodal access," said Regional Transportation Director Heather Paddock.

CDOT's Executive Director Shoshana Lew agrees. "Complying with ADA standards will make certain all members of the community—whether on foot, wheelchair or bicycle—can easily and readily use highway crossings and intersection crosswalks."
---
Work Schedule
Construction work Monday through Friday, during the hours of 7 a.m. to 7 p.m.
Traffic Impacts
Anyone traveling this corridor can expect throughout the project will encounter:
Occasional single right lane closures.

Sidewalk closures at some locations for pedestrians.