CO 79 Improvements at Union Pacific Railroad Crossing in Bennett
Project Facts
Cost: $11.9 million
Contractor: Tsiouvaras Simmons Holderness (TSH)
Timeline: TBA
Location: in the Town of Bennett and unincorporated Adams County on US 36D (aka, E. Colfax Avenue, at mile point 89.8) and CO 79B (north of Old Victory Road, at mile point 2.4)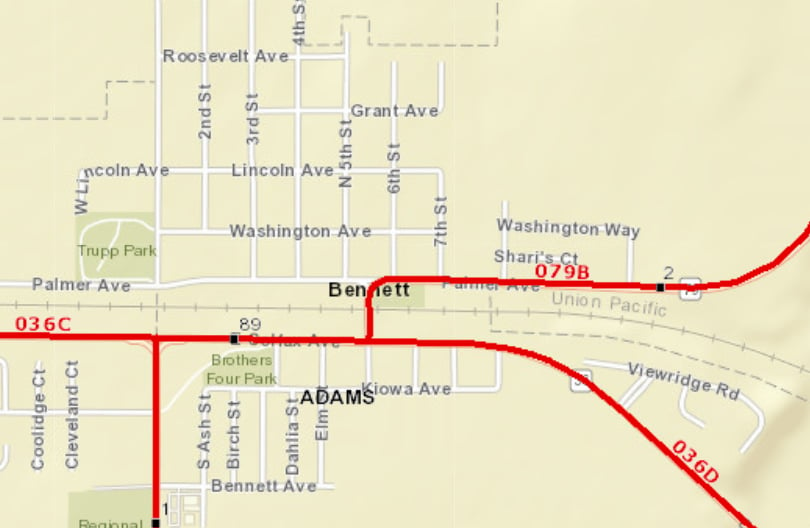 Project Area
Crews on this project will complete road and bridge construction on Colorado Highway 79 in the Town of Bennett to improve the overall safety and riding surface of the roadway.
Specfically, the project team will address conflicts and delays at the CO 79 at-grade crossing of Union Pacific Railroad, and safety concerns along the major corridors within the area.
---
Background
In 2013, CDOT, the Town of Bennett, and Adams and Arapahoe counties completed a Planning & Environmental Linkage (PEL) study of CO 79 between I-70 to just north of 38th Avenue. Through that study, they recommended realigning CO 79 to the east around Bennett and adding a grade separation of the Union Pacific Railroad crossing.
6-7:30 p.m.
Wednesday, Nov. 7, 2018
Town of Bennett Town Hall
207 Muegge Way Bennett 80102
Join the Town of Bennett, CDOT and Adams County as they showcase the design of the preferred alternative for the realignment of CO 79 and the grade-separated crossing at the Union Pacific Railroad east of town. In addition to the project team, town, county and CDOT staff will be available to discuss other transportation-related topics.