CO 64 Rangely East/US 40 Surface Treatment
Project in Winter Shutdown
Work on this project will resume in March or early April 2022.
Project Facts
Cost: $5 Million
Contractor: 

A & S

 
Timeline: April - September 2021
Location: 

his project will take place on CO 64 from MP 19.8 – 28, and on US 40 from MP 0 – 7, Moffatt & Rio Blanco Counties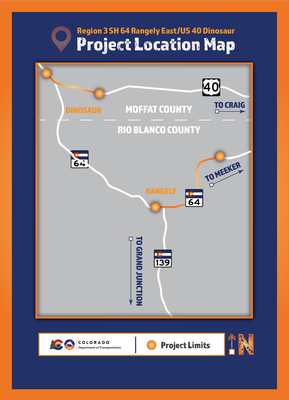 Project Map
About the Project:
The Colorado Department of Transportation has begun a resurfacing project on US Highway 40 and Colorado Highway 64. The work being done on the two sections will address the distressed highway in rural Northwest Colorado. Roadways in the communities of Rangely and Dinosaur show severe cracking and are beginning to fail. Work along US 40 will take place in and near the community of Dinosaur, Mile Points 0 – 7. Work on CO 64 will be in and near Rangely, MP 20-28. Work will consist of overlay on both roadways, pavement markings bringing guardrails up to the new standards.
---
Work Schedule
Monday - Friday, May 17-21, from 7 a.m. to 7 p.m., flaggers will assist motorists through the construction zone. 
---
Traffic Impacts
Anyone traveling this corridor can expect throughout the project:
Lanes shifts of existing roadway alignment.

Single-lane, alternating travel through the work zone.

Flaggers will direct single-lane, alternating traffic.

Width restrictions of 10 feet on CO 64 and 12 feet on US 40 will be in place 24 hours a day.

Speed reductions will be in place of 35 mph during working hours

.