Cottonwood Pass Concept Design | Eagle & Garfield Counties
Public Open House Meetings
Attend a public open house meeting to view the initial design options for safety improvements at the 14 specific sites along Cottonwood Pass. The same information will be presented at both meetings and there will be no formal presentation. Drop into the open house at your convenience during the hours listed below.
March 22, 2023, 5:30 - 7:30 p.m. at Glenwood Springs Community Center, 100 Wulfsohn Road, Glenwood Springs

March 23, 2023, 5 - 7 p.m. at Gypsum Town Hall Council Chamber, 50 Lundgren Blvd., Gypsum (enter through the middle set of doors)
About the Project:
CDOT is supporting Eagle and Garfield counties to design safety improvements on county roads that traverse Cottonwood Pass. Concept designs were prepared with public input for safety improvements at 14 specific locations along the county roads that cross through both Eagle and Garfield counties (6 locations in Eagle County, 8 in Garfield County). These locations were defined by the counties based on known safety issues.
Although CDOT and both counties agree Cottonwood Pass is not an endorsed detour route for Interstate 70 traffic in the event of a Glenwood Canyon closure, Cottonwood Pass is a vital connection for local residents who rely on it to safely travel between Gypsum and Colorado Highway 82 in the Roaring Fork Valley.
This project assessed existing conditions and defined concept level improvements. Potential site improvements included curve softening, improved sight distance and increased road width in specific areas to accommodate two vehicles passing. Overall widening and broad scale paving of the corridor is planned or being considered.
With the information provided by this project, Eagle and Garfield counties will ultimately determine if and when improvements at each site would move forward. Further design and construction of potential improvements is not funded at this time.
Cottonwood Pass Project Questions and Answers
The Cottonwood Pass Concept Design (Eagle and Garfield Counties) project began in June 2022 and is planned to be complete in early 2023. This project only involves taking the design to a conceptual (approximately 10%) level of completion. Funding for further design and construction has not yet been secured.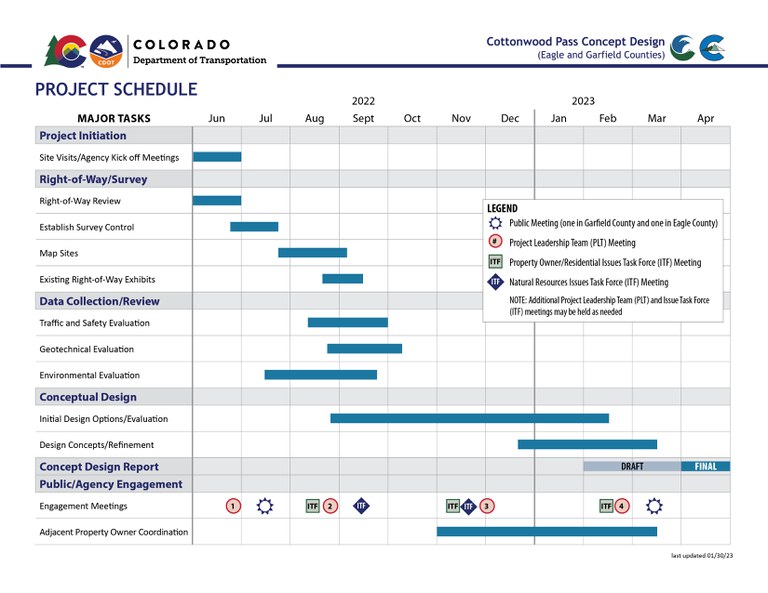 Right-of-Way Survey: June – Sept. 2022

Data Collection and Review (traffic and safety, geotechnical, environmental): July – Oct. 2022

Develop/Evaluate Initial Design Options: Aug. 2022 - Feb. 2023

Develop/Refine Design Concepts: Dec. 2022 - March 2023

Prepare Concept Design Report: Feb. - April 2023

Public and Agency Engagement: Throughout project