Edwards Spur Road
Project Facts
Cost:$21.3 million (64% CDOT – Faster Funds, 36% Edwards/Eagle Metro District)
Contractor: Kraemer North America LLC
Timeline: Feb. 2019 – June 2020
Location: Edwards Spur Road (south of Miller Ranch Road) including the intersection of US 6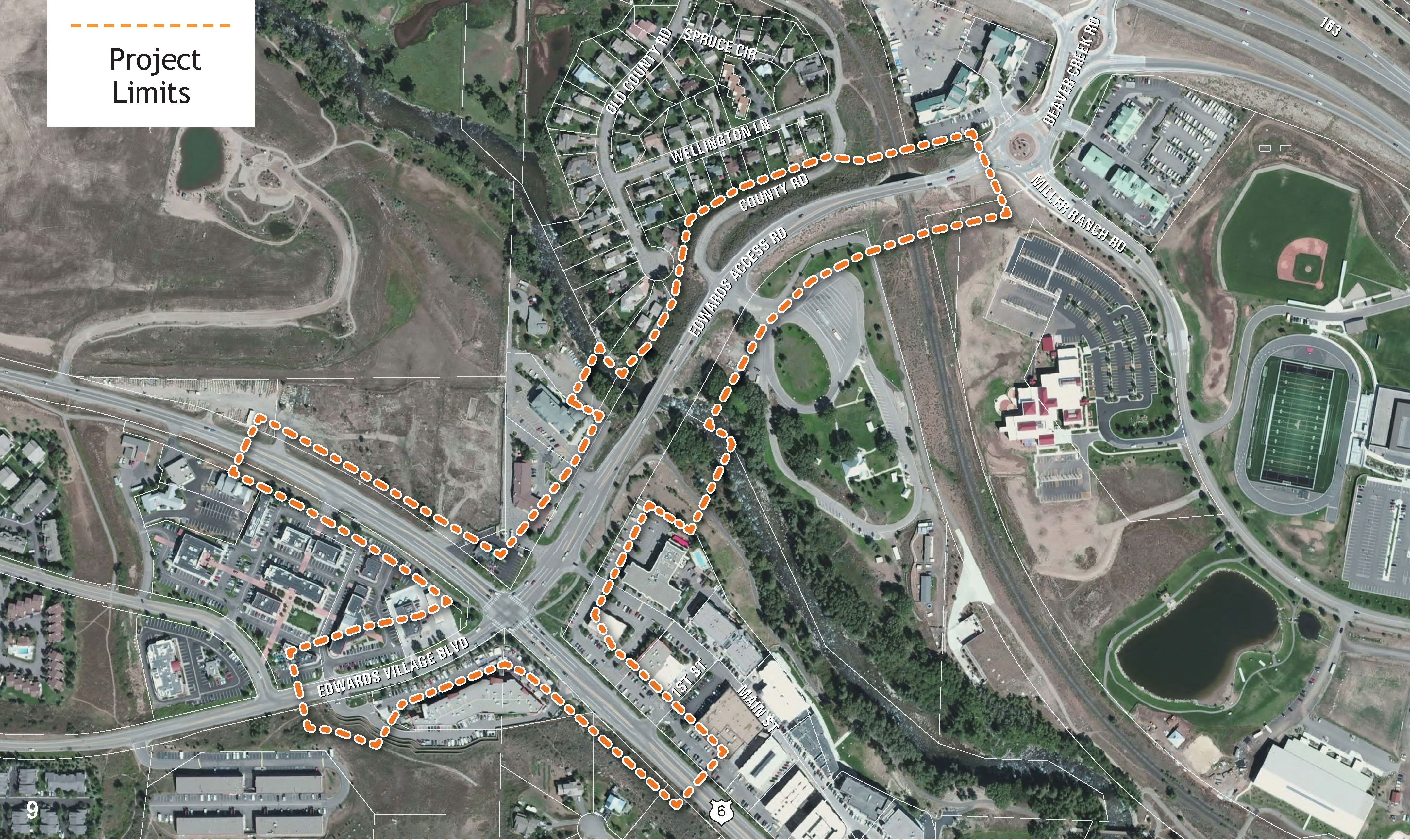 Project Site
CDOT and Eagle County are making improvements to Edwards Spur Road, an approximate 0.6-mile-long stretch that connects I-70 to US 6 in the unincorporated town of Edwards. This improvement impacts two major thoroughfares—I-70, Eagle County's primary transportation corridor, and US 6, which carries large amounts of traffic that runs parallel to I-70 from Dotsero to Dowd Canyon.
---
Phases
Phase 1 of the project—completed in 2011—made improvements to the northern half of the Spur Road, including four new roundabouts and improved connections with the I-70 on- and off-ramps
Phase 2 of the project will include designing improvements for the southern half of the Edwards Spur Road, starting north of the roadway bridge over the Union Pacific Railroad (where Phase 1 ended) and ending with the connection to US 6 to the south—a distance of approximately 0.4 miles. Crews will widen roads and bridges, and improve intersections and pedestrian mobility.
---
Schedule & Traffic Impacts
Work hours: 7 a.m. - 7 p.m., Monday - Friday, with some weekend and nighttime closures necessary for safety-critical work.
Single-lane closures with alternating traffic, intermittent traffic stops, and flagging operations along Spur Road are possible.
Major construction to convert the intersection with US 6 into a roundabout will begin in June.
Motorists should expect delays when traveling through the project site.
---
Work Zone Safety
We're working hard to deliver a quality product for the community. Please pay attention to changing road conditions and give workers plenty of space.
---
Colorado Classic 
Although not part of the Edwards Spur Road project, please be aware of nearby impacts during the Colorado Classic bike race on Friday, Aug. 23 in Avon.
From approximately 12:30–3:30 p.m., U.S. 6 will be closed through Avon. There will be a local detour beginning at Miller Ranch Road directing eastbound U.S. 6 traffic onto Miller Ranch Road to eastbound I-70. Westbound U.S. 6 traffic in Avon will use Post Blvd. to access westbound I-70.
---
Ongoing Work
Spur Road
US 6 Intersection



For the week of Aug. 18, there is the possibility for single-lane closures, traffic holds and alternating traffic during the day.

On Thursday, Aug. 22, beginning at 8 p.m., Edwards Access Road will be closed overnight between Miller Ranch Road and U.S. 6 while girders are set for the new Eagle River Bridge. The road will reopen to traffic by 6 a.m. on Friday.

During this closure, businesses and residences will remain accessible, but motorists may need to use the detour route to reach their destinations. North and southbound through traffic on the Edwards Access Road will use Miller Ranch Road and U.S. Highway 6 as the detour. Motorists should expect delays through the project area during this time.

Due to the length of the girders, transport trucks will need to exit Interstate 70 at the Wolcott interchange (U.S. Highway 6 and State Highway 131) and travel eastbound on U.S. 6. People traveling through this area between 3 a.m. and 4 a.m. should expect 15-minute delays.

New Roundabout Open 
Project crews have transitioned traffic at the U.S. 6 and Edwards Access Road intersection to the new functional single-lane roundabout. Crews will continue to work in the area to add curbs, gutters, truck aprons and sidewalks. The roundabout is anticipated to open to two lanes by the end of November.

Business Entrance Turn Access
Please be aware of new business access turn restrictions.
Swipe table to see more content
Intersection Etiquette
With the current intersection configuration, please remember to stop behind the designated lines and avoid being caught in the intersection. The limited space makes it difficult for trucks and buses to pass around vehicles in the intersection.
In addition, please do not block the marked crosswalks around the intersection.
Old Edwards Estates Pedestrian Detour
Residents in the Old Edwards Estates neighborhood will need to use a new pedestrian detour to access the Edwards business district and US 6 intersection. From the neighborhood, pedestrians will travel along County Rd to cross Edwards Access Road toward the CDOT rest area. Construction flaggers will guide pedestrians across the spur road. Pedestrians can then use the new pedestrian bridge to cross the Eagle River. Please keep in mind that the new pedestrian bridge is only open for this detour route, and is only intended to be used by Old Edwards Estates residents.
Business Access
The north entrance to the Conoco at US 6 and Edwards Access Road remains closed through July 31. Please plan to access businesses using the south entrance. Additionally, the south entrance to the Edwards plaza on the northwest corneer of the US 6 and Edwards Access Road intersection, will be closed July 29-Aug 2. Please plan to access businesses using the north entrance.
US 6 Pedestrian Detour
Pedestrian routes will also change during roundabout construction with detour signage directing them through the intersection.
ECO Transit
The second phase of roundabout construction will require temporary closures of the HWY6 @ Riverwalk West and HWY6 @ Edwards Spur Rd East ECO Transit bus stops. Bus users can use the nearby HWY 6 @ Edwards Spur Rd West and HWY 6 @ Riverwalk East as alternate stops, respectively.
For more information, visit eaglecounty.us/transit.
Union Pacific Railroad Bridge
No work has occurred on the Union Pacific Railroad Bridge yet due to continued delays in obtaining final approvals from the Railroad. The UPRR experienced significant layoffs last fall which have caused a delay in the negotiations for the final construction agreement. CDOT continues to work hard at obtaining final approvals, but it is now estimated that the railroad bridge work will carry over into 2020. When the final approval is obtained from the UPRR, the project team will announce the start and estimated duration of that work.
Tract T in Edwards
Crews will remove 28,000 cubic yards of soil from the hillside between Edwards Corner and the Edwards Commercial Park. This soil will be used as fill for the roundabout at Edwards Spur Road, after which time the property will be regraded. That parcel of land has no development plan.
Look for signs alerting motorists to haul trucks traveling between the sites (estimated to be about three per hour).
Eagle County will monitor for issues related to the excavation or haul traffic.
The property owner must revegetate all disturbed areas after soil removal is complete.
Project Hotline:
970-446-1001
Press 1 for English.
Press 2 for Spanish.
You may leave a message for a project representative at the end of the recording. Please leave your name, number, and a brief message.
Public Relations Team:
Sam Stavish
Maisie Wingerter
[email protected]