Project Information
This Permanent Repair project on SH 39 and SH 71 removed and replaced damaged roadway with riprap slope protection and completed installation of a new CBC in Morgan County.
Please find the attached 4.19.15 weekly project update for the SH 39 and SH 71 Project.
Damage Overview
SH 71 in Morgan County provides direct access across the South Platte River between Synder and I-76 at Brush.  The area is largely rural and this highway serves local agriculture as a primary farm to market access road to nearby grain cooperatives and livestock exchanges.  SH 71 sustained severe damage near milepost 181.  Approximately 1,000 feet of roadway was overtopped, causing undermining of the roadway pavement and embankment.  In addition, a section of roadway at milepost 181 was completely washed out.  The bridge at milepost 181.5 that spans the main channel of the South Platte River sustained minor erosion around the piers and abutments.
Emergency (Temporary) Repairs
Remaining water from the event was pumped out or allowed to evaporate and the displaced pavement and embankment material was removed.  The roadway base and embankment were reestablished and the roadway re-paved.   A temporary culvert was also installed to alleviate pooling water.
Permanent (Long-Term) Repairs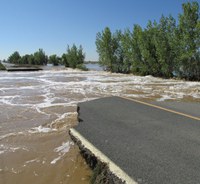 Some of the roadway that was overtopped by floodwaters may be replaced to ensure its stability.  Additionally, the roadway and embankment placed during the Emergency Repair work will be replaced.  Damaged Right-of-Way fencing will be repaired or replaced and slopes adjacent to the roadway disturbed during Emergency Repair will be re-vegetated with native grass seed and mulch.
Estimated Timeline
Estimated Budget
$1 - $4 million (shared with project SH 39A)
Benefits
One of the goals in the repair process was to introduce certain betterments (improvements beyond bringing the road to standard) to roadway facilities that were damaged and make them more resilient to similar storm events in the future.  Having analyzed the damage caused during the flood event, certain design elements were incorporated in an effort to prevent or lessen the severe damage that significant flood events can cause.  At this site, high-water-relief culverts were installed at the highway low point to mitigate flood waters overtopping the roadway during similar large storm events.  Additionally, embankment armoring (riprap) were installed to protect the downstream embankment from severe erosion if water overtops the roadway.