I-70 Mountain Corridor Traffic and Revenue Study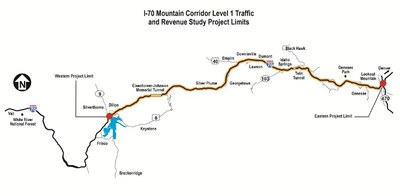 In 2013, the Colorado Department of Transportation (CDOT) initiated a study to explore possible effective, long-term solutions (50-year) to congestion in the Interstate 70 (I-70) Mountain Corridor between C-470 and Silverthorne that are economically feasible, publicly acceptable, and use minimal public funding.
During the planning study, a multi-disciplinary team developed potential alternatives including those in the Record of Decision (ROD) for the I-70 Mountain Corridor Programmatic Environmental Impact Statement (PEIS) – then evaluated, based on performance measures (evaluation criteria).
The I-70 Mountain Corridor Context Sensitive Solutions (CSS) Process was utilized as a framework for the study. A Project Leadership Team (PLT) provided leadership and oversight for the project.  Membership included representatives from the corridor communities, representative stakeholders in the business and environmental communities, local, state and federal agencies, the Federal Highway Administration, and CDOT.  A Technical Team (TT) comprised of specialists and community representatives assisted the project team as well. Special Issue Task Forces (ITF) were convened to develop and analyze specific issues.
You can find the Final Level 1 report and additional documents below. For further information about the project, contact Benjamin Acimovic, CDOT project manager at [email protected], phone 720-497-6936.
Traffic and Revenue Study Documents