North I-25 Express Lanes: 120th to Northwest Parkway/E-470
I-25 North Express Lanes: 120th to Northwest Parkway/E-470
Express Lanes Open for Testing Period!
With major construction work complete on the North Interstate 25 Express Lanes: 120th Avenue to Northwest Parkway/E-470 project, the Express Lanes are now open for a period of testing.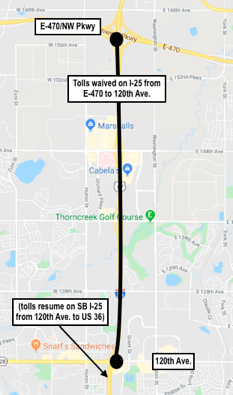 During this testing period, all fees will be waived on I-25 between E-470 and 120th Avenue. For travelers on southbound I-25, tolls will resume south of 120th Avenue. We expect the lanes to officially open in Spring 2020. Please note, motorists can still expect intermittent daytime and nighttime lane closures on I-25 through Spring 2020.
Project Facts
Goal: Increase mobility and travel choice along a six-mile segment of I-25 by building an Express Lane in each direction of a highway that connects downtown Denver to major growth in northern Colorado.
Cost: $21.5 million
Timeline: March 2019 - summer 2020
Contractor: Graham Contracting Ltd.
Location: I-25 between 112th Avenue and Northwest Parkway/E-470
Background
In August 2011, CDOT completed a Final Environmental Impact Statement (FEIS), which identified and evaluated multi-modal transportation improvements for I-25, including the stretch between US 36 and Colorado Highway 7—among the most congested in the Denver metro area. (On average, 174,000 vehicles travel this stretch each day.) The FEIS' preferred alternative for the corridor will increase safety, capacity and user choice.
---
Phases
Spring 2016 - Fall 2018
Crews focused on the outside portions of I-25 and completed ramp reconfiguration work.


Started in March 2019 and ongoing
Crews are focusing on the inside portion of I-25 by:

installing new concrete median barrier and lighting;
incorporating tolling infrastructure for the new Express Lanes;
making technology improvements;
resurfacing the pavement with new asphalt;
restriping the roadway; and
completing ramp improvements, including metering, to improve operations.
---
Benefits
This project will:
Add capacity and ultimately provide the choice of a reliable trip with the addition of one HOV/Express Lane in both directions of I-25.
Install an auxiliary lane along northbound I-25 to connect the 136th Avenue on-ramp to the 144th Avenue off-ramp, which will help drivers merge more comfortably between the two interchanges.
Improve driving conditions by resurfacing the roadway.
Address necessary drainage and utility improvements along the corridor.
Improve technology.
Improve operations at ramps through traffic metering devices.
How to use Express Lanes
Express Lanes increase roadway capacity and help manage congestion on Colorado highways by adding lanes that provide a new choice to drivers. Motorists can choose to ride the bus, carpool or pay a toll to use the new Express Lanes as an alternative to the free, general purpose lanes.