Smart 25 Pilot Project: Coordinated Ramp Metering System on I-25 from Ridgegate Parkway to University Boulevard
Project Facts
Project: Testing new ramp metering system aimed to reduce congestion
Timeline: Testing begins in spring 2021
Location: Northbound 

I

-

25

 between Ridgegate Parkway and University Boulevard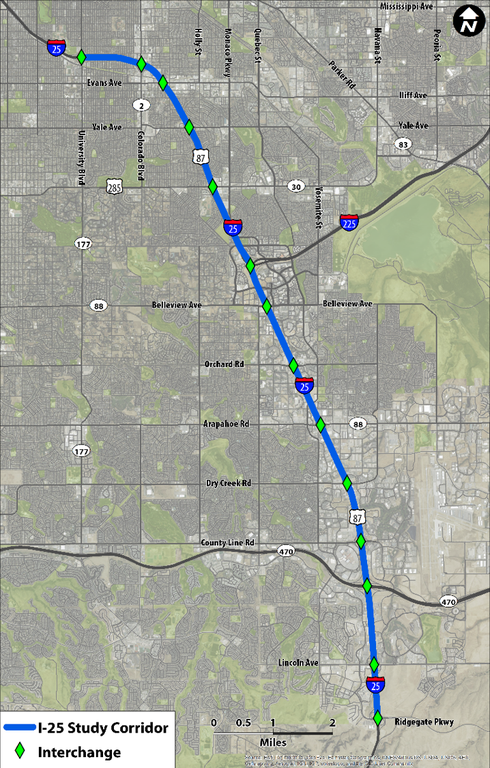 About the Pilot Project
This is a pilot project to test a new ramp metering system that is expected to reduce congestion and improve travel times on northbound I-25 between Ridgegate Parkway and University Boulevard.  The project has installed vehicle detection devices in and along ramps entering the highway that measure the number of vehicles, their speed, and the length of the line of vehicles waiting to enter the highway.  This information will be gathered for all 18 ramps along the corridor and be used to control the timing of the lights that allow vehicles to enter the highway, reducing stop-and-go traffic.  This system has worked successfully in Melbourne, Australia.  Traffic flow increased by 25% and speeds improved 35% to 60% during peak travel times, the equivalent of adding a lane at the fraction of the cost. The Smart 25 Pilot Project is the first of its kind in Colorado and North America. 
I-25 between Ridgegate and University is similar to the corridor in Australia where such a ramp metering system has been very successful.   
---
2021 Testing Schedule 
Summer – Data collection phase: motorists will not notice any difference to the corridor.
Summer to fall – The new ramp metering system will be activated incrementally to provide an adjustment period for drivers and allow for system tweaks.
Fall to early 2022  – The new ramp metering system will be in full operation. 
The system will be closely evaluated.  If results show traffic conditions improve, permanent deployment is possible.
Resources
Smart 25 Project Fact Sheet, May 5,2021
Smart 25 Project Update, March 24, 2021