Snowplow Signal Priority Pilot Project
About the Project
CDOT Region 1, which covers eight counties in Central Colorado including Denver and the surrounding metropolitan area, is carrying out the Snowplow Signal Priority (SPSP) pilot project, aimed at creating a safer and more efficient environment for snow plows conducting plowing operations along signalized state highways.
CDOT maintenance crews are responsible for plowing all interstates, US highways, and state highways in Colorado totaling more than one million lane miles in snow removal each year in the Denver Metro Area alone. A portion of those lane miles includes state highways that have signalized intersections including CO 121 (Wadsworth Boulevard) and CO 88 (Arapahoe Road). Currently, CDOT snow plows stop at red light signals along with the rest of the traveling public.
The SPSP pilot project will utilize Connected Vehicle (CV) technology that will create vehicle to infrastructure and infrastructure to vehicle (V2I/I2V) communication to enable CDOT snow plows to improve efficiency of snow clearance operations. In this case, the infrastructure includes the traffic signal cabinet. The technology will allocate an early green or extend the green time at the signal when a CDOT snowplow is detected at the intersection, which in turn will expedite plowing efforts along signalized state highways and lead to a safer environment for both plow drivers and motorists.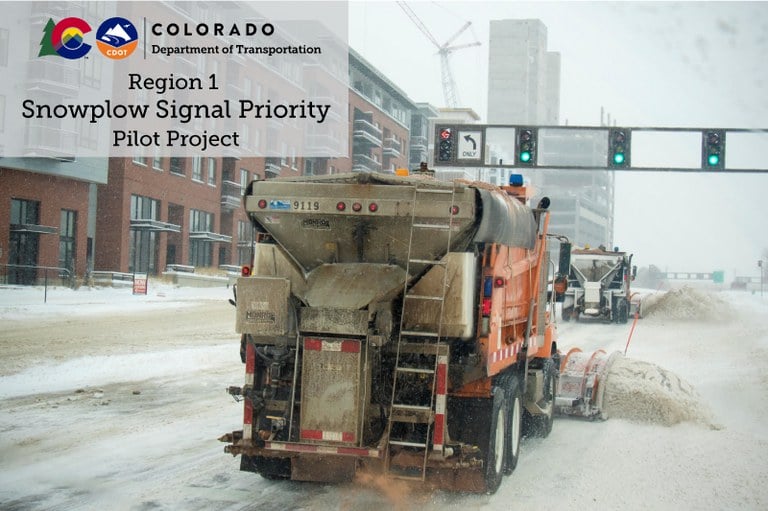 The SPSP pilot project will implement new innovations and technologies in these corridors and will provide the following benefits:
Enhance safety
Reduce time to plow pavement
Improve traffic flow along the identified corridors during and after snow removal
The technology includes an on-board unit (OBU) inside of CDOT snow plows that can communicate with the Road Side Unit (RSU) via radio signal at the intersections, and the RSU will communicate with the signal controller to initiate the change from a red to green signal. This allows snowplows to request extended green or early green signal phases. 
The pilot project funding is made possible through a grant from the Federal Highway Administration's (FHWA) Accelerated Innovation Deployment (AID) Demonstration program. You can learn more about this in the FHWA INNOVATOR Newsletter from May/June 2020.
Project Location
The Snowplow Signal Priority Pilot Project kicked off in winter 2020-21, starting with up to three signalized intersections along Wadsworth Boulevard in Jefferson County and Arapahoe Road in Arapahoe County. These corridors have a high level of readiness for this project as CDOT has been investing in traffic signal communications, controller, and cabinet upgrades in both of these corridors.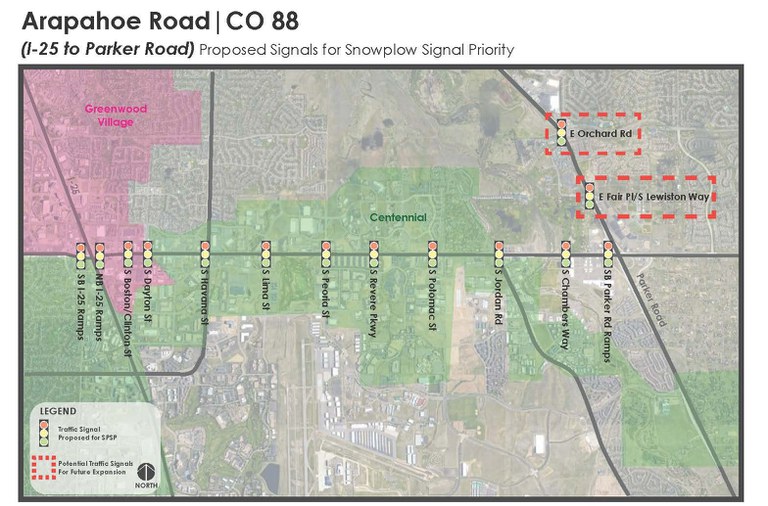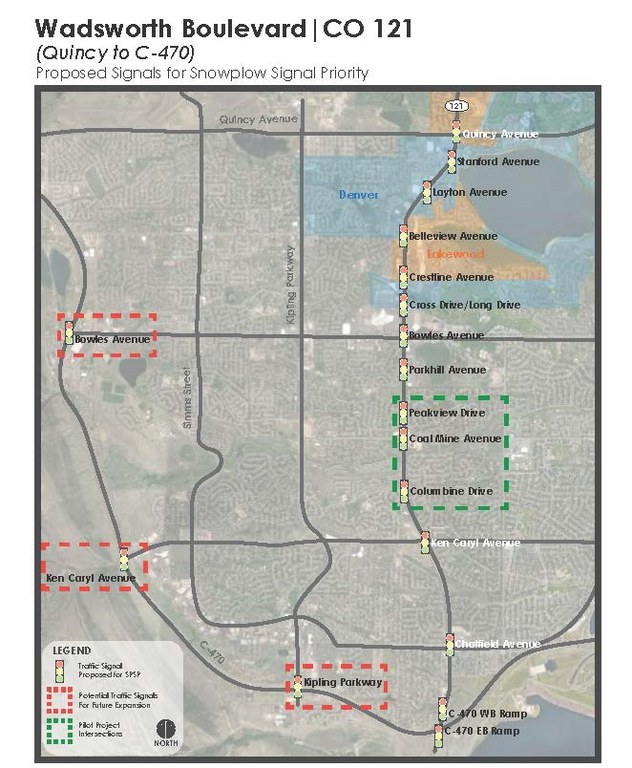 ---