Why the Project is Needed
Existing Infrastructure Issues in the I-270 Corridor
I-270's existing highway infrastructure doesn't meet local and regional transportation demands. Daily traffic congestion patterns begin on I-270 earlier than any other freeway in Colorado. Several interchanges and bridges were designed more than 50 years ago, and portions of the pavement are sinking above a large, historic landfill. Business growth in the area has produced high volumes of freight traffic reliant on I-270 for access to and through the area. See the link at the bottom of this page to learn more about I-270's history.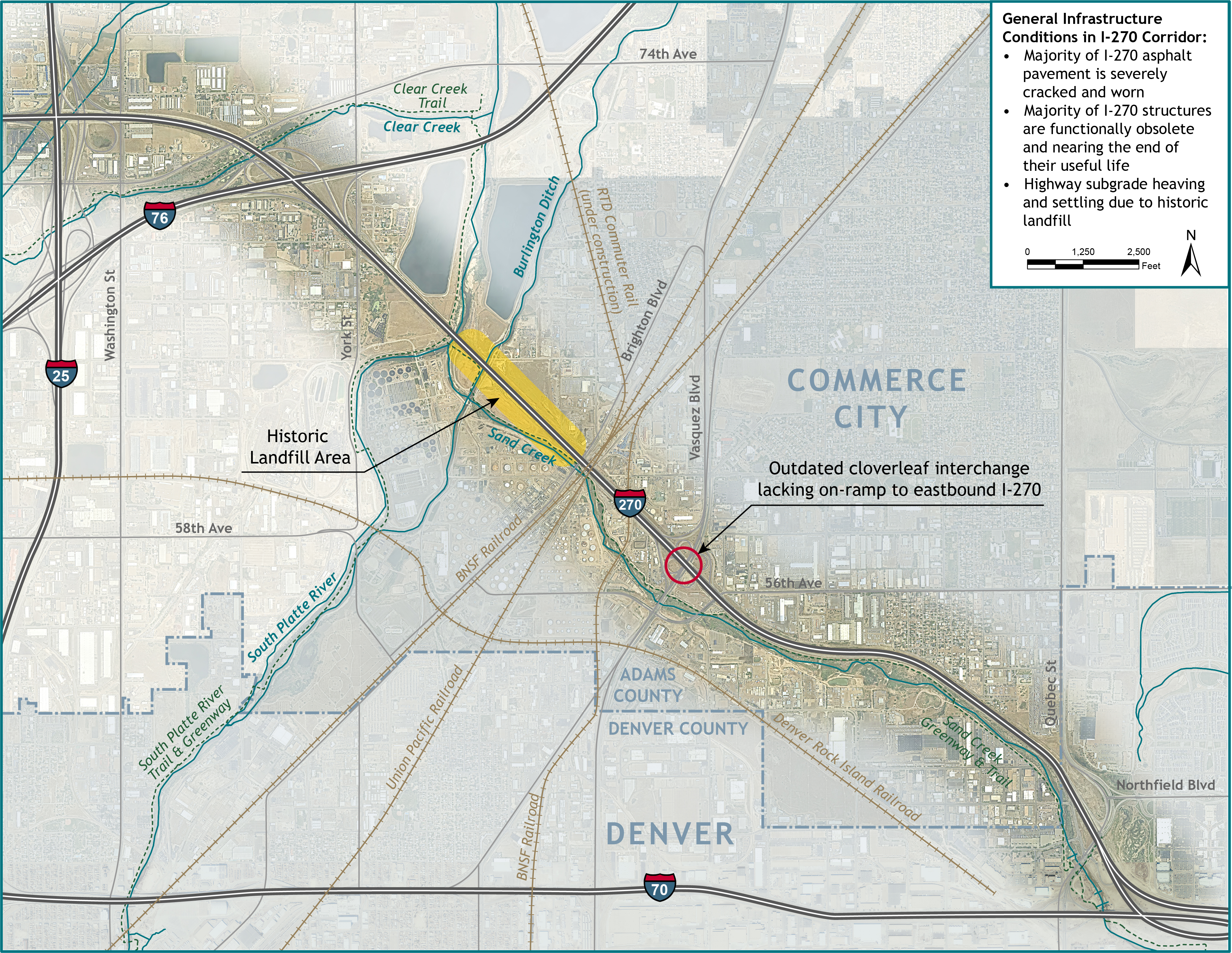 Project Purpose and Need
The purpose of the I-270 Corridor Improvements project is to implement transportation solutions that modernize the corridor to accommodate transportation demands.
>Needs:
Improve safety by reducing the rate of vehicle crashes.
Improve travel time reliability and reduce delays.
Update obsolete and deficient bridges and highway infrastructure.
Improve truck freight movement efficiency.
To supplement the identified transportation needs, CDOT has identified other issues, or goals, to be resolved as part of a successful solution. The project goals are:
Accommodation of existing and planned multimodal routes.
Consideration of the natural and human environment.
Consideration of approved local and regional transportation plans.
What is Purpose and Need?
A Purpose and Need statement is used in NEPA studies to articulate and focus on the specific problems to be addressed. The Purpose and Need is the foundation of the alternatives process because alternatives are developed and evaluated based on their ability to meet the Purpose and Need.
Is there a specific problem or concern on I-270 you can identify on a map?
Use the map interface to let us know about it.
More information about Purpose and Need can be found in the CDOT NEPA Manual.
Length:5.35 (I-25/US 36 to I-70)
Exits: 6
Counties:

2 (Adams and Denver )

Cities:

 2 (Commerce City and Denver)

Start of Construction:1965
End of Construction:1970
Initial Construction Costs:$8.9 million
National Impact
Construction Timeline
I-270 started being built in the late 1960s. The section from I-70 to Vasquez opened by 1968, and it opened up to I-76 by 1970. As originally built, I-270 started at a trumpet interchange on I-76 just east of I-25. Two lanes from eastbound I-76 blended off and become I-270, while from I-270 the two lanes merged onto westbound I-76, but those immediately became the exit lanes for northbound I-25 and westbound US 36.
Westbound US 36 connection history: In September 1999, the connection from WB I-270 to NB I-25 opened. If you wanted US 36, you still had to take the former route that mainlines I-270 took west onto I-76. Then in mid-February 2000, the full westbound connection finally opened. Also, the opening was an exit from WB I-270 to Broadway. At the same time, several other things happened: A new exit from I-76 westbound to I-270 westbound opened, and the preexisting exit from westbound I-76 to NB I-25 and WB US 36 closed. Also, the ramp from WB US 36 to Broadway closed, replaced by a new exit from NB I-25 to 70th Avenue.
As for the eastbound connection, the full connection from US 36 to EB I-270 opened August 16, 2003. No other ramp openings or closings happened with that, though.
December 12, 1965
Construction of I-270 begins. Major structures include twin bridges to take I-270 over Dahlia Street, a bridge to carry Quebec Street over I-270 and another two to take I-270 over I-70. Cost: $1.4 million for structures and $1.3 million for paving; Contractor: L.H. Kilgroe Construction Co. of Denver.
August 2, 1968
A three-mile segment of I-270 between Vasquez Boulevard and I-70 opens to traffic.
October 23, 1970
A two-mile segment of I-270 opens to traffic between I-80 (I-76) and US 85, adjoining the three-mile segment already in service. This segment completes the 5.2 mile circumferential route.
April 1993
Construction begins to extend I-270 from I-76 to the I-25/US 36 interchange. Phase I consists of extends I-76 from I-25 to Pecos Street, constructing an eastbound I-270 bridge over I-25 and reconstructing the east to northbound and east to southbound ramps. Cost: $11.4 million; Contractor: Centric/Jones Constructors; Complete: June 1994
June 1996
Cost: $12 million
Contractor: Centric-Jones Co.
Work: Constructed a total of five new bridges. Two of the bridges were for westbound I-270 over Washington Street and over I-25. Two bridges were for the exit ramp from northbound I-25 to 70th Avenue. The final bridge connected northbound I-25 to westbound US 36. Duration: June 1996 through May 1998
July 1997 
Cost: $9 million
Contractor: SEMA Construction Co., Inc.
Work: Constructed the I-270 westbound bridge over Clear Creek, widened the existing US 36 bridge over Broadway, realigned southbound I-25 to the westbound US 36 ramp, which included the construction of MSE walls. Duration: July 1997 through December 1998
June 1998 
Cost: $19 million
Contractor: Centric-Jones Co.
Work: Completed the westbound I-270 extension between I-76 and US 36, built the Direct Connect HOV ramp between US 36 and I-25, and constructed a new alignment of northbound I-25 between I-76 and 84th Avenue . Duration: June 1998 through June 2001
March 1999 
Construction begins to replaces the I-270 bridges over Vasquez Blvd. Cost: $6.2 million; Contractor: PCL Civil Constructors; Completion: June 2000
October 1999
Cost: $8.5 million
Contractor: Hamon Contractors, Inc.
Work: Constructed eastbound I-270 from I-25 to York Street , including the new bridge structures at I-270 over Washington Street and I-270 over Clear Creek. This project was accelerated one year due to TRANs bonds. Duration: October 1999 through March 2002
June 2000
Cost: $21 million
Contractor: Hamon Contractors, Inc.
Work: Constructed seven structures at the I-270 and I-76 interchange, rebuilt ramp movements from westbound I-270 to eastbound and westbound I-76. This project was accelerated two years due to TRANs bonds. Duration: June 2000 through August 2003
March 2004
Cost: $21 million
Contractor: SEMA Construction Co., Inc.
Work: Constructed a flyover ramp from southbound I-25 to eastbound I-270 and reconstructed southbound I-25 in concrete between 84 th Avenue and I-76. This project would not have been constructed without TRANs bond monies. Duration: March 2004 through November 2005
Future Cost:
$15 million
Contractor: Yet to be determined
Work: Constructs a flyover ramp from eastbound I-270 to eastbound I-76.
Duration: On hold (depend on funding) - This is the final phase of this Strategic Transportation Project.