US 287 Ted's Place to Wyoming Border Study
About the Project
In April 2023, CDOT initiated this study to assess safety improvement and mobility needs along US287 North of Ted's Place. Study limits are US287 MP 355 (Ted's Place) to MP 385 (WY Border), approximately 30 miles in length. Currently, some segments of the US287 corridor have a higher-than-average crash rate compared to other similar rural highways, making it a good candidate for safety improvement. Crash types being investigated include those occurring at intersections, involving passing maneuvers or along curves, and crashes involving wildlife.
Over the past five years, a total of 570 crashes were reported along the corridor. Of these, 439 were property-damage only crashes, 116 crashes resulted in injury and there were 15 fatal crashes. US 287 is also a prominent freight corridor and experiences nearly 900 trucks per day traveling along its length.
The scope of the study is as follows:
Assess the magnitude and nature of the safety problem within the study limits.
Relate crash causality to roadway geometrics, roadside features, traffic control devices, traffic operations, driver behavior, wildlife, and vehicle type.
Recommend cost effective safety and mobility projects to address identified problems.
Prioritize recommendations based upon factors such as level of improvement and benefit-cost, and
Inform the public about the study and take comments regarding existing safety and mobility concerns
Recognizing the importance of the US287 corridor, CDOT's 10-year plan identifies the potential for passing lanes as well as other safety improvements to be constructed in the relatively near future. Once future design and construction funding is identified, the recommendations from this study may be used to identify those improvements most urgently needed. Public outreach and feedback from corridor stakeholders and the community will assist the project team to identify and prioritize possible improvements.
Schedule & Important Dates
Study start date: 4/4/2023

Public Feedback Period end date: 10/11/2023

Deliver Report: 12/1/2023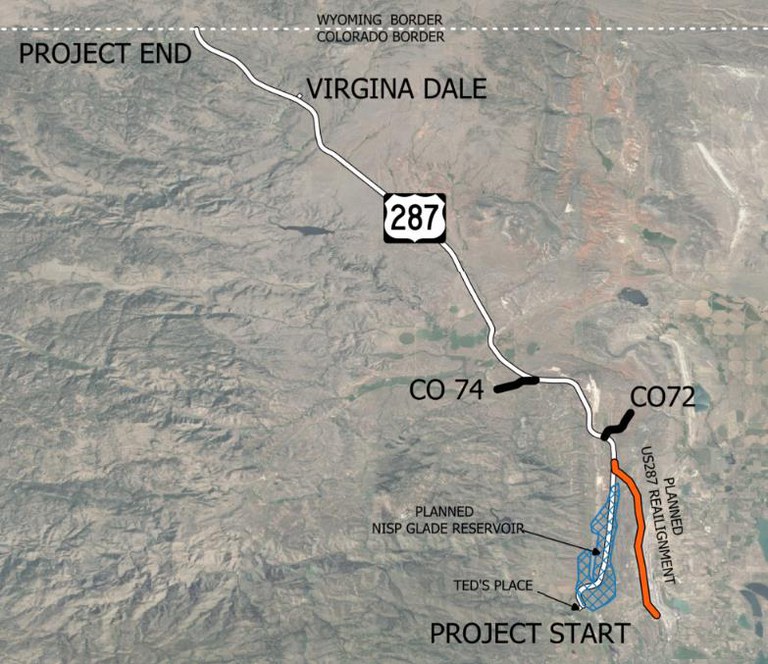 US 287 Ted's Place Project Location Map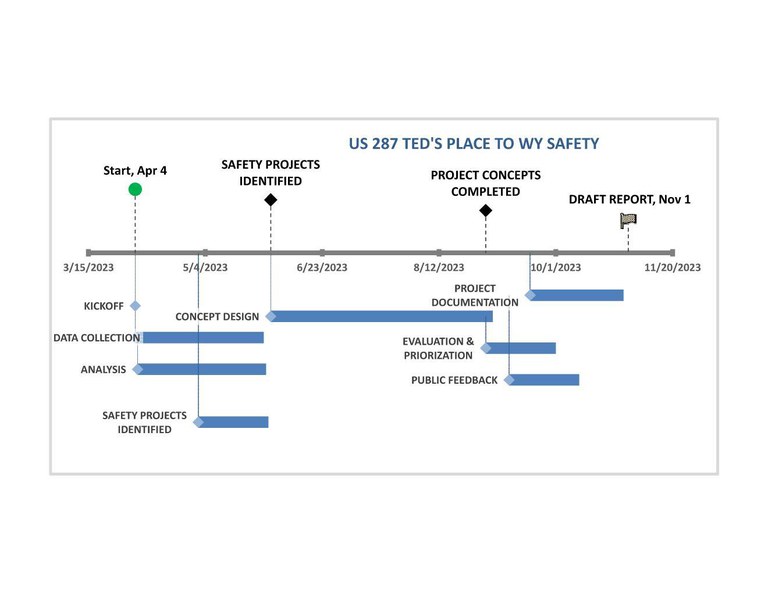 Project Timeline


Dates
Deliverables
4/4/2023 
Project Kickoff
4/4/2023 to 5/31/2023
Data Collection
4/5/2023 to 6/1/2023 
Analysis
5/1/2023 to 6/1/2023
Safety Projects Identified
6/1/2023 to 9/1/2023 
Project Concepts Completed
9/1/2023 to 10/1/2023 
Evaluation and Prioritization
9/20/2023 to 11/1/2023
Project Documentation
9/11/2023 to 10/11/2023 
Public Feedback   
11/1/2023  to 12/01/2023
Deliver Draft Report