US 160 Wildlife Crossings - La Plata & Archuleta Counties
Project Update
Through the end of June and into the first part of July (weather and availability of materials permitting), crews will focus on the wildlife overpass. Building the concrete sidewalls, backfilling the sidewalls and seeding the natural landscaping on the bridge will complete the project.
Project Facts
Cost: $11 million
Contractor: 

Ralph L. Wadsworth

Timeline: March - November 2021
Location:

 13 miles west of Pagosa Springs and 37 miles east of Durango, La Plata & Archuleta Counties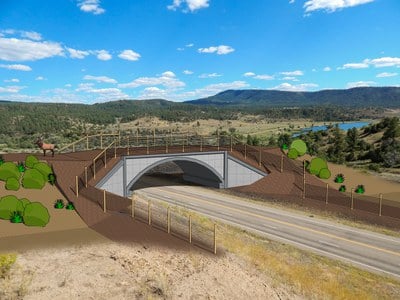 Artist's Rendering of US 160 Wildlife Crossing
About the Project:
The main goal of the project is constructing a new wildlife mitigation structures. Other construction includes improvements to the highway and intersection. The is located approximately 13 miles west of Pagosa Springs and 37 miles east of Durango (MM 126-128). New safety features for motorists and animals will include: 
Wildlife underpass 

Wildlife overpass 

8-foot-tall exclusion fence along both sides of US 160

Earthen escape ramps and deer guards 

Extension of the existing westbound passing lane on US 160

Construction of a left-turn acceleration lane on US 160 at the CO 151 intersection

Pavement resurfacing along a two mile stretch of US 160
The wildlife underpass is already seeing usage
by animals, capture by CDOT's critter cam.  
---
Work Schedule
Daytime work hours will be from 7 a.m. to 7 p.m., Monday through Saturday.

Work is expected to be completed by the end of April, weather permitting.
---
Traffic Impacts
Fifteen-minute delays are expected.

Speeds will be reduced to 30 mph in the work zone. Please keep speeds down for the safety of everyone.

Shoulder and single lane closures are anticipated through the duration of the project.