"Why Do You Choose Not to Drive High?" Cannabis Conversation Visits FlyHi 420 Festival
"Why Do You Choose Not to Drive High?" Cannabis Conversation Visits FlyHi 420 Festival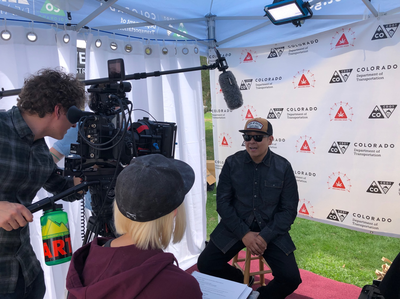 CDOT took to the festival scene on April 20 to talk to cannabis consumers at the FlyHi 420 Festival, the state's largest gathering of marijuana enthusiasts.
As part of The Cannabis Conversation, CDOT hosted a tent at the festival and asked Coloradans, "Why do you choose not to drive high?" We had a video team on hand to capture the answers to that question and others and had representatives working the crowd to ask how they felt about various PSA ad campaign concepts that CDOT is workshopping for next year's safety campaign.
The festival attracted an estimated 75,000 people this year — which means we got a lot of great feedback.
We also spoke with Sam Cole, CDOT safety communications manager, some of the festival's organizers, and Dr. Michael Kosnett of the University of Colorado Denver, who is doing some cutting-edge research on the effects of driving marijuana impaired. 
Stay tuned, as we plan to release those video interviews and overall coverage of our work at the festival. The public can join the conversation. Just take our online survey at ColoradoCannabisConvo.com or chime in on social media. We also have upcoming public events in Eagle and Denver. Keep an eye on our Facebook page and show up to let us know how you think we can work together to keep marijuana consumers from getting behind the wheel.