CDOT Brings the Cannabis Conversation to Eagle County
CDOT Brings the Cannabis Conversation to Eagle County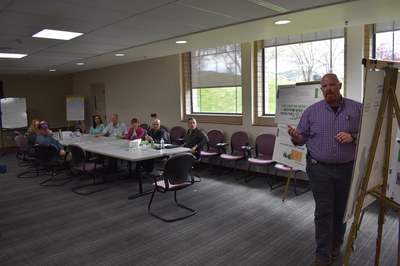 Detective Aaron Veldheer of the Eagle County Sheriff's Office presents his concerns.
CDOT's Cannabis Conversation marijuana-impaired driving safety campaign visited Eagle County this May. The Eagle River Youth Coalition, a local prevention and advocacy organization, partnered in the event, and was one of many community representatives on-hand to discuss how marijuana-impaired driving affects their community, and to brainstorm and workshop potential solutions.
Statewide community outreach is one part of CDOT's larger traffic safety campaign, which is wrapping up its second year. In hosting public meetings and workshops, CDOT could gain a firsthand perspective on how marijuana-impaired driving affects communities large and small.
Community health and prevention organizations, law enforcement, cannabis-industry representatives and advocates, and local media were all in attendance.
Concerns around this issue included:
Limited resources on all fronts limits to address the issue with youth and adults
Marijuana-involved crashes and DUIs affect everything from employee retention to to larger citizen involvement in the criminal justice system
Readily available alternatives to driving personal vehicles are needed in rural areas such as Eagle County
The most agreed-upon solutions proposed by workshop attendees include:
Enforcement – increased determent tactics for marijuana-impaired driving including higher fines and stricter driver's license penalties
Community engagement – educating impairment limits in a transparent way
Use of influencers – have celebrities and influencers to reach cannabis consumers 
CDOT would like to thank our partners at the Eagle River Youth Coalition for helping plan this stop in the Cannabis Conversation. The workshop was an inclusive and collaborative event thanks all the participants and community members.