Colorado Springs Weighs in on The Cannabis Conversation
Colorado Springs Weighs in on The Cannabis Conversation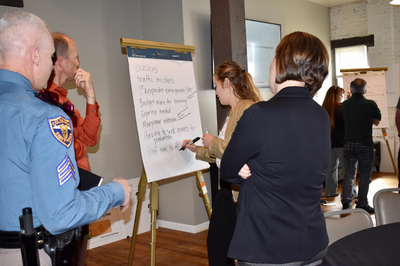 On Tuesday, April 16, CDOT, along with the Southern Colorado Cannabis Council, CSU Institute of Cannabis Research and Native Roots, hosted a stakeholder workshop and public open house in Colorado Springs as part of The Cannabis Conversation. The events kicked off a series of meetings across the state to discuss the issue of marijuana-impaired driving and identify potential solutions.
CDOT brought together 17 stakeholders from the cannabis industry, healthcare, law enforcement, and local government to talk about how the issue affected them and their organizations, and brainstorm new and creative ways of addressing the issue.
Following the workshop, CDOT invited the public to join the conversation at an open house where guests provided feedback on the potential solutions and weighed in on the campaign's creative ad concepts currently in development for a future awareness campaign. The creative concepts are being tested and refined as part of this year's The Cannabis Conversation initiative and, once final, will be unveiled in 2020.
To see the ad concepts and offer your feedback, click here to take an online survey.
Next up on CDOT's agenda are public meetings in Eagle and Denver. Stay tuned for details and ways you can get involved in the conversation. You can always find the latest news on CDOT's Facebook page.