Industry Leaders Discuss Solutions to Drugged Driving in Denver
Industry Leaders Discuss Solutions to Drugged Driving in Denver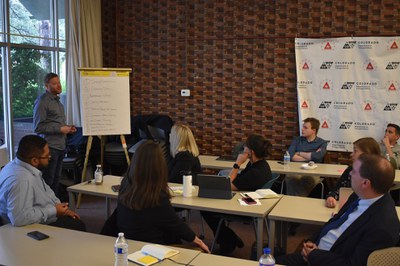 Attendees discuss solutions to marijuana-impaired driving in Denver
This spring, a group of nearly two dozen marijuana industry, government policy, law enforcement and leaders in transportation met at the University of Denver as part of CDOT's Cannabis Conversation. Each attendee brought their knowledge of how marijuana-impaired driving impacts their industries.
Workshop participants voiced concerns about how marijuana-impaired driving affected them:
An advocate for medical marijuana patients voiced concerns about the enforcement of marijuana-impaired driving on patients who habitually consume for medicinal purposes.
Law enforcement expressed that more impaired driving means more DUIs — which uses valuable law enforcement resources.
More and easier alternatives for safe transportation were needed

.

 
And these were just a few. All participants expressed being affected by the issue and were eager to help find and implement solutions. 
Top solutions presented by workshop participants included:
Additional funding for research on impairment and cannabis potency
More accurate industry guidelines for consumption
Crafting messaging campaigns — for tourists who visit Colorado — about the dangers of driving while marijuana-impaired.
Later in the day, CDOT held an open house at the university to showcase creative design concepts and gather feedback on how to best reach Denverites.