Video Contest Alert! Enter to Win up to $5,000!
The Colorado Department of Transportation, in partnership with the Governors Highway Safety Association (GHSA), is launching a statewide contest for high school students to create a distracted driving public service announcement (PSA). Students are challenged to create their own anti-distracted driving video encouraging Coloradans to drop this dangerous behavior and just drive. Students will compete for up to $5,000 in prizes and the opportunity to have their PSA featured in CDOT's distracted driving campaign.  
How It Works
All high school students residing in Colorado are eligible to enter the contest, either individually or as a group. Students are encouraged to work with their peers, teachers and mentors to develop a concept for their PSA before they get started. The video concepts and production style are entirely up to the students and can be either live-action or animated. The videos can feature interviews, music, art, animation and other creative resources to convey their message.
Criteria 
Entries should be anywhere from 30-90 seconds and highlight how to combat distracted driving, hold friends and loved ones accountable and encourage other Coloradans to drop the distractions. Students are encouraged to get creative and are invited to use interviews, music, art, animation and other creative resources to convey their message. For safety purposes, no portion of the video can include footage taken inside a moving vehicle unless the driver is buckled up and not driving distracted.
Videos should be captured in a horizontal orientation, be at least 1920x1080 pixels and have a bit rate of 30kbps or less. Videos should be submitted in .mov or .mp4 format.
All PSAs must be submitted no later than April 17, 2023 through a platform called Cinebody. We highly recommend students use a video editor to compile and edit their footage before uploading it to the platform.
Submitting Your Video
Webpage Options
To use the Cinebody platform online, visit Cinebody.com and click login at the top right corner of your screen.
Once you have created your account, input the code CDOT at the top left corner of your screen.
On the CDOT project page, upload your finalized PSA by clicking the upload button at the top left corner of the screen.
Mobile Options
To download the app, visit the Apple or Google Play store and search for "Cinebody". The application icon will be a multicolored "C" on a white background.
When prompted, use the project code CDOT to access the PSA contest.
On the bottom of your screen, click the fourth button from the left with the arrow pointing up. Click on Distracted Driving PSA Contest and Final PSA to upload your video.
What is Distracted Driving?
Distracted driving is the act of driving while engaged in anything that takes your focus away from the road, including texting, looking after children or pets, talking on the phone or to a passenger, watching videos, eating or reading.
Multitasking is a myth. A person's attention can switch back and forth between tasks quickly, but your optimal focus cannot be on two tasks at once. When you're driving distracted, your attention is diverted from the road ahead, slowing reaction time and, with it, the ability to avoid hazards that can result in a crash.
Distracted Driving in Colorado
In 2020, 10,166 crashes involved a Colorado distracted driver, resulting in 1,476 injuries and 68 deaths. Even with these life-threatening consequences, more than 90% of Colorado drivers self-report driving distracted.
What is CDOT doing about Distracted Driving? Our latest campaign is Distraction Reactions, an effort designed to start shifting social norms by encouraging drivers to think twice before they pick up that phone.  To view the Spanish campaign, visit Racciones a la distracción.
Distracted Driving Nationwide
Distracted driving claims hundreds of lives each year across the United States. In 2019 alone, 3,142 lives were lost and roughly 400,000 people were injured due to the preventable decision to drive distracted. This includes such behaviors as eating while driving, turning to talk to passengers, using a phone, and more. Visit NHSTA's Distracted Driving page for information on the national effort to save lives by ending distracted driving.
In 2020, 10,166 crashes involved a Colorado distracted driver, resulting in 1,476 injuries and 68 deaths.
In 2022, there were 103 deadly crashes involving drivers 20 years old and younger in Colorado. This is a 37% increase from 2019 when there were 75 fatal crashes involving drivers in the same age group.
In CDOT's 2021 annual mail survey of Colorado drivers, in the week prior to the survey

91% of participants reported driving distracted in the past seven days.
54% admitted to reading a message on their phones.
Nearly 50% talked on a cell phone while driving.
41% sent a message while driving.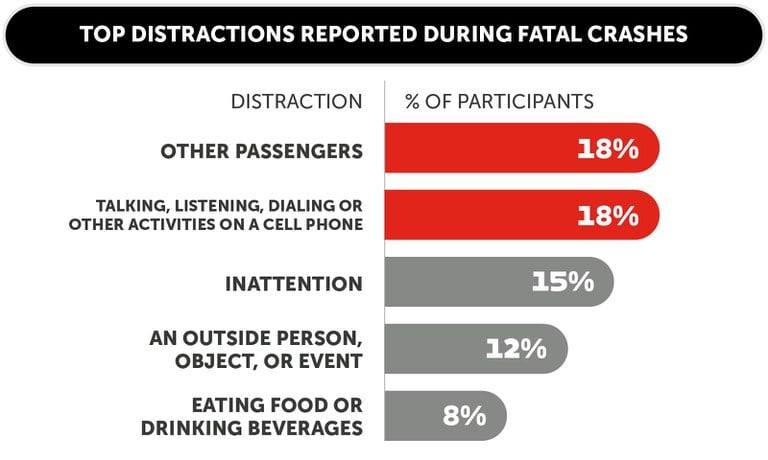 ---
---