Colorado Task Force on Drunk & Impaired Driving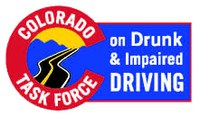 The Colorado Task Force on Drunk and Impaired Driving (CTFDID) was established by the Colorado General Assembly in 2006 in an effort to generate more collaboration and consensus for effective solutions to the impaired driving problem in Colorado.
The mission of the Colorado Task Force on Drunk and Impaired Driving is to support the prevention, awareness, enforcement, and treatment of drunk and impaired driving in Colorado through strong partnerships with public, private and non-profit organizations.
Members of the CTFDID are designated by statute and represent various state agencies, the law enforcement and legal community, safety advocates, private businesses and citizens.
Meetings are open to the public and are held on the third Friday of each month (except for June, August, and December, when there is no meeting) at the Colorado State Patrol Academy, Building 100 - Carrel Hall, 15055 S. Golden Road, Golden, CO  80401 unless otherwise noted. Please note, the September meeting for 2023 has been cancelled. 
See past meeting summaries and annual reports.