Motorcycle Safety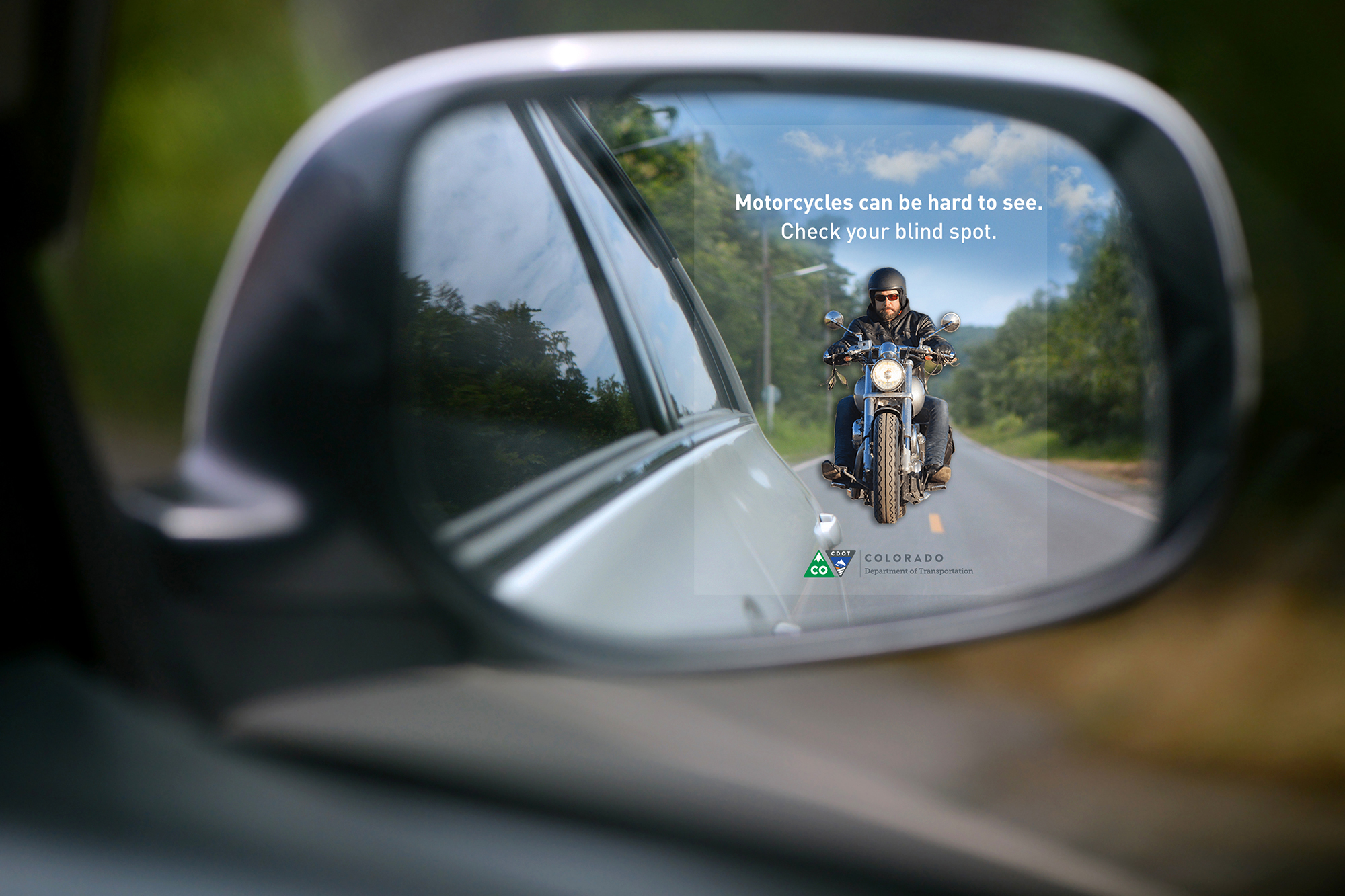 Watch for Motorcycles
CDOT is working to make Colorado's roads safer for motorcycles. Motorcycle deaths have increased 58 percent in the last four years. In 2016, motorcyclist fatalities hit an all-time high of 125 deaths in the state, up from 106 deaths in 2015.
While motorcycles account for just 3 percent of registered vehicles on the road, motorcycle fatalities represented 21 percent of fatalities. These fatalities tend to peak during the summer months with more motorcycles on the road. All drivers have the responsibility to watch for motorcycles just as motorcyclists need to ride safely and obey speed limits.
CDOT's statewide motorcycle safety campaign aims to raise awareness of the importance of checking blind spots and looking for motorcyclists when turning. The campaign is directed at drivers, who often miss seeing motorcyclists on our roadways. Motorcycle crashes often happen when a driver turns left in front of a motorcycle the driver didn't see. Always remember to look twice before you turn left—because seeing a motorcycle after a crash is too late.
Of course, motorcyclists can help reduce crash fatalities, too. Head injury is the leading cause of death in motorcycle crashes. Therefore, CDOT encourages all riders to wear helmets and other protective gear. Nationally, 715 lives could be saved each year if all motorcyclists wore helmets.
---
Live to Ride Campaign
Hear the Live to Ride
Audio Ads


CDOT's Live to Ride campaign is designed to help motorcyclists of all skill levels ride safely, have fun, and most importantly, stay alive. Live to Ride endorses three primary safety messages:
Get Training
Lack of training is a factor in Colorado's fatal motorcycle crashes. Motorcycle riders were found to be at fault in seven out of 10 fatal crashes.


Ride Sober
Impaired riding is also a major problem; 14 percent of riders killed in motorcycle crashes in 2013 were under the influence of alcohol.


Wear Proper Protective Gear
Nearly two-thirds of the riders killed in Colorado last year were not wearing a helmet or were wearing it incorrectly.
Just as football players are required to suit up for the big game, or pilots must complete hundreds of hours of training to fly solo, riders need to wear protective gear and get proper training to know how to handle their machines. And riding sober...well...that's just common sense.
For more information on Live to Ride or to get involved, please contact us.
Resources

Confused by Express Lanes?

MOST Hotline: 303-757-9462


Media Contact:
Sam Cole
303-757-9484


Email Sam.