320 Movement: CDOT, Lyft and MIG Join Forces to Promote Marijuana Safety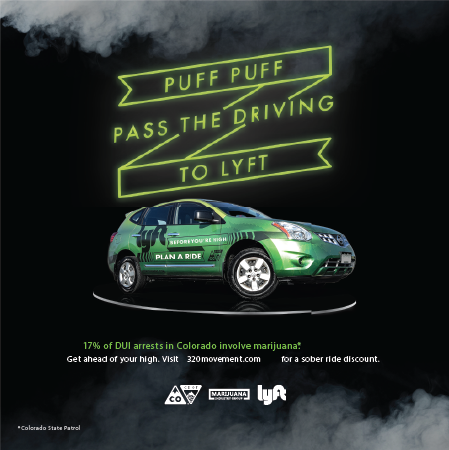 Impaired driving doesn't just mean drunk driving, as evidenced by the fact that 17 percent of DUI arrests in Colorado involve marijuana, according to the Colorado State Patrol.
In an effort to reduce the number of marijuana-related crashes and fatalities on Colorado roadways, CDOT partnered with rideshare provider Lyft and the Marijuana Industry Group (MIG) to relaunch the 320 Movement—a continuation of a spring-launched campaign that encourages marijuana users to plan for a safe and sober ride.
Beginning in November and running through April 2018, marijuana users in Colorado will be offered discounted Lyft rides wherever Lyft operates in Colorado. One hundred and twenty five of MIG's member dispensaries were given toolkits to promote marijuana safety information and the discounted Lyft ride codes to their customers.
The toolkits include window clings and postcards for dispensaries to display and distribute. They also contain social media assets to share on individual Facebook and Instagram profiles to drive users to 320movement.com, where people can learn about the dangers of driving high and claim discounted Lyft rides.
Catchy messaging, such as "Puff, puff, pass the driving to Lyft" and "If you load it, CDOT will help you Lyft it," aims to resonate with marijuana users and raise awareness of the alternatives to driving high.
CDOT's partnership with Lyft and MIG is part of its Drive High, Get a DUI campaign, which aims to educate drivers about the dangers of driving under the influence of marijuana, with the goal of reducing the number of drug-related DUIs, traffic crashes and fatalities.