Distracted Driving: Turn Off Distractions – Turn on Do Not Disturb Mode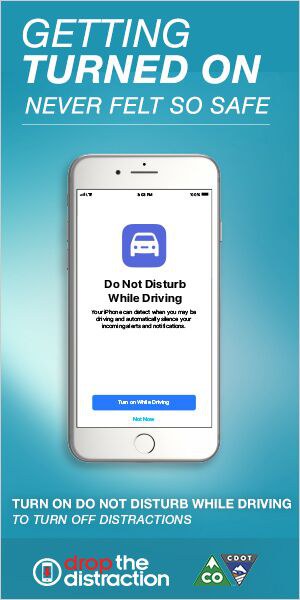 In April, CDOT launched the Get Turned On campaign, encouraging Coloradans to activate their phone's Do Not Disturb While Driving mode as a tool to curb distracted driving. Many phone manufacturers, including Apple and Google, are incorporating built-in functionality that limits phone use while driving. If your phone isn't equipped with this built-in functionality, don't worry! There are a number of apps with various features to limit phone use behind the wheel. CDOT has a list of recommended apps on its distracted driving web page, distraction.codot.gov, and is constantly searching for new apps.
We've recently added the Driving Detective app to our list of apps. Driving Detective is a free Android app that automatically detects when your car is in motion and turns on your phone's Do Not Disturb mode, blocking incoming alerts while you drive. Similar to the iPhone's Do Not Disturb While Driving feature, Driving Detective provides similar features for Android users. Whichever prevention method you choose, make sure you're in control of your phone, not the other way around.