Colorado Byways Symposium 2021
Colorado Byways Symposium 2021
Due to the Centers for Disease Control and Prevention (CDC) COVID-19 recommendations, the Symposium is rescheduled for 2021. Thank you!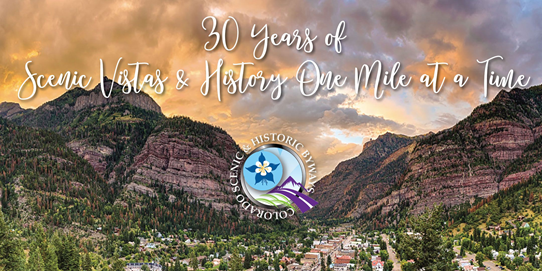 Colorado Byways Symposium 2021
"Thirty Years of Scenic Vistas & History One Mile at a Time"
May 5-6, 2021
Ouray, Colorado
May 4-5, 2021 San Juan Skyway Pre-Tour
May 7, 2021 Post-Tours
The Colorado Scenic and Historic Byways Program, which has helped guide the development of the state's roadways that have exceptional scenic, ecological, cultural, and historic attributes, is celebrating its 30th anniversary.
"Over the span of three decades, some byway names have become legendary, such as the San Juan Skyway, Alpine Loop, and the Highway of Legends," said CDOT's Colorado Byways Program Manager Lenore Bates. "The initial byways roster envisioned between 15 and 20 routes but the Scenic Byways Commission settled in with 26 of them. They are truly the best of Colorado."
We are celebrating each Byway which will culminate in a Symposium and Celebration in beautiful Ouray in 2021.
We will include our Sponsors & Partners in the program schedule. We hope you will join us in Ouray for this recognition and celebration of arguably, the best network of Scenic Byways in the nation.
---
KEYNOTE SPEAKERS
---
TENTATIVE SCHEDULE*
* events/times are subject to updates until the schedule is final and confirmed 
Tuesday, May 4, 2021
Pre-Tour San Juan Skyway Day 1

Check into the hotel, Cortez CO
Wednesday, May 5, 2021
Pre-Tour San Juan Skyway Day 2
2 p.m. Check into the hotel, Ouray CO

3 p.m. Colorado Byways Symposium Registration Opens

3 – 5 p.m. Reception

3:30 p.m. Welcome Remarks by Colorado Department of Transportation Executive Director Showshana Lew & City of Ouray Mayor Greg Nelson

5 p.m. Speaker, Mark Falzone, Scenic America
6 p.m. Awards Dinner
Thursday, May 6, 2021
8 a.m. - Breakfast
9 a.m. - Speaker, Rosemerry Wahtola Trommer, WordWoman
10 a.m. - First Sessions
11:15 a.m. - Second Sessions
12:30 p.m. - Lunch & Speaker, Karen Mollica Risch, Local Author, No Individual Heroes, Ouray Mountain Rescue
1:45 p.m. - Third Sessions
3 p.m. - Fourth Sessions
4-5:30 p.m. - Closing Remarks/Reception
5:30 - 7:30 p.m. - Dinner on Your Own
7:30 p.m. - Optional Evening Presentation
Friday, May 7, 2021
7-8 a.m. - Coffee on Your Own [Rally for Post-Tours]
---
LODGING
Lodging in Ouray is second to none, with amenities you'll be hard pressed to find elsewhere. Long known for our hospitality and friendly residents, Ouray has been a home away from home for travelers, dating back to the City's beginning in 1876. From standard motels to charming bed and breakfasts, historic hotels, to cabins and condos, the choice is up to you. You'll be welcomed like family even if it is your first trip to Ouray. 
---
SPONSORSHIP & CONTRIBUTIONS
Gold Level:
  
Silver Level:
    

Copper Level:
  

Special Partners: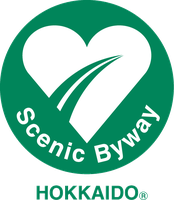 ---
Sponsorship Information:
Copper Sponsor - $500
Silver Sponsor - $1,000
Gold Sponsor - $2,000
Palladium Exclusive Lunch or Reception Sponsor - $3,000
Platinum Exclusive Dinner Sponsor - $5,000

Sponsorship Levels Detailed Information