2021 Colorado Byways Symposium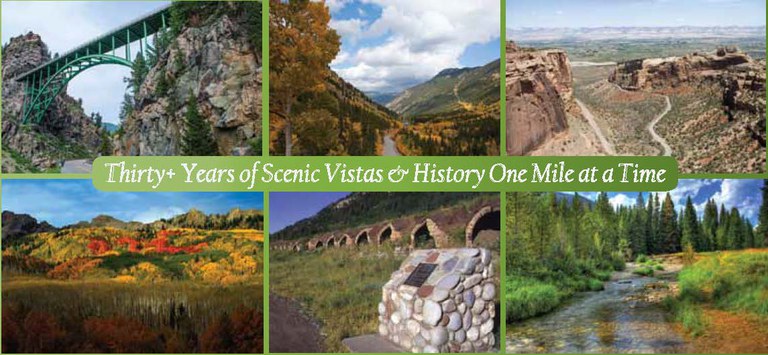 30 Years of Scenic Vistas & History One Mile at a Time
May 5-7, 2021
Location: Carbondale & Glenwood Springs, Colorado
We are planning to hold a limited, in-person and virtual Colorado Byways Symposium in May 2021.
The Colorado Scenic and Historic Byways program is celebrating more than 30 years of excellence. The program has helped guide the development of the state's roadways that have exceptional scenic, ecological, cultural and historic attributes.
"Over the span of three decades, some byway names have become legendary, such as the San Juan Skyway, Alpine Loop, and the Highway of Legends," said Lenore Bates, CDOT's Colorado Byways program manager. "The initial byways roster envisioned between 15 and 20 routes but the Scenic Byways Commission settled in with 26 of them. They are truly the best of Colorado."
We will include our sponsors and partners in the program schedule. We hope you will join us for this recognition and celebration of arguably, the best network of scenic byways in the nation. For more information, please contact our team.
---
Registration


2021 Colorado Byways Symposium Registration
Virtual Guide


2021 Colorado Byways Symposium Virtual Guide
---
Schedule
Events/times are subject to updates until the schedule is final and confirmed.
Wed., May 5, 2021 | 3-5 p.m. 
Carbondale, Colorado
Location: Sustainable Settings
3 p.m. - Registration, Reception & Welcome Remarks

5 p.m. – Dinner On Your Own
Thurs., May 6, 2021 | 8:15 a.m. - 8 p.m.
Glenwood Springs, Colorado
Location: Morgridge Commons Meeting & Conference Center
Symposium speakers, sessions and awards. See final schedule above for specific information.
Fri., May 7, 2021 | 10 a.m.
Glenwood Springs, Colorado
Glenwood Caverns
Continental Breakfast, Free Gondola Ride & Rally for Post-Tours
---
Lodging
Lodging and special conference rates are available from several hotels in Glenwood Springs. Click on the link below for information and rates for this year's event.
Symposium Lodging Information & Rates
2021 Sponsorships & Contributions
Gold Level:
  
 


Silver Level:
  
   
 
Copper Level:
      
    
Special Conference Contributors: