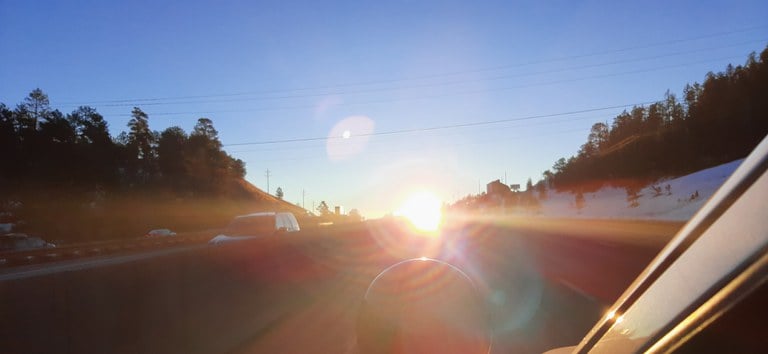 Photo credit: Sergeant Don Enloe, Colorado State Patrol
Beginning in early November through February, the sun's angle in combination with inclining hills along the highway can create a blinding sun glare for drivers traveling eastbound in the early morning hours. The glare occurs from sunrise until approximately 8:30 a.m. annually during the fall and winter months. 
Driver Safety Tips
Motorists should consider adjusting eastbound travel plans to before sunrise or later in the morning if possible. If you can't adjust your travel plans, here are some additional safety tips to help:
Make sure your windshield is clean – inside and out
Ensure your vehicle has plenty of windshield wiper fluid
Wear a good pair of sunglasses to provide shading
Adjust your speed to avoid sudden reactions
Let off the accelerator and slow down gradually instead of slamming on the brakes
---
Floyd Hill Sun Glare Closures
Reminder: Safety closures due to sun glare can occur in the morning hours on eastbound I-70 at Floyd Hill. The sun's angle, in combination with the hill and the highway's configuration, can create a blinding sun glare for drivers as they head eastbound up Floyd Hill (about mile point 244 to 248, east of Idaho Springs). The intense sun glare occurs as far east as Genesee beginning around sunrise (expect traffic slowdowns beginning at 6:30 a.m.) and lasting until around 8:30 a.m.
Frequently Asked Questions (FAQs)