Avalanche Safety
Every winter, CDOT and its sister agency, the Colorado Avalanche Information Center (CAIC), regularly monitor and control 278 of 522 known avalanche paths located above Colorado highways. This helps prevent avalanches from impacting drivers and passengers on the highways below. To help predict avalanche conditions and the necessity for avalanche control, CDOT and CAIC study forecasts and current weather conditions.

Avalanche Road Closures 
When there is a high risk of avalanche danger, CDOT will close highways at the location of the avalanche path to conduct avalanche control. 
After the highways are closed, CDOT crews bring down the unstable snow from the mountain side and clear all snow and debris from the roadway before reopening the highway to traffic.
Stay Informed 
CDOT will alert drivers via electronic road signs of avalanche control road closures. 
Motorists can also visit COtrip.org or call 511 for current road and weather information and updates on avalanche control work.
Avalanche Data
CDOT tracks how often avalanche work is completed throughout the season. This includes any task related to avalanche prediction, mitigation or removal of snow due to avalanches. From October 2018 to April 2019, CDOT crews conducted avalanche work 51 times along I-70 and other major roadways, with March being the busiest month for activity.
During the 2018-2019 winter season, CDOT crews:
Experienced 1,707 hours of road closures due to avalanche control, resulting in a total of 44,378 feet of snow covering the centerline of the roadway.
Conducted 1,615 explosions for avalanche hazard mitigation.
Triggered 877 avalanches with explosives.
Handled 72 natural avalanche occurrences.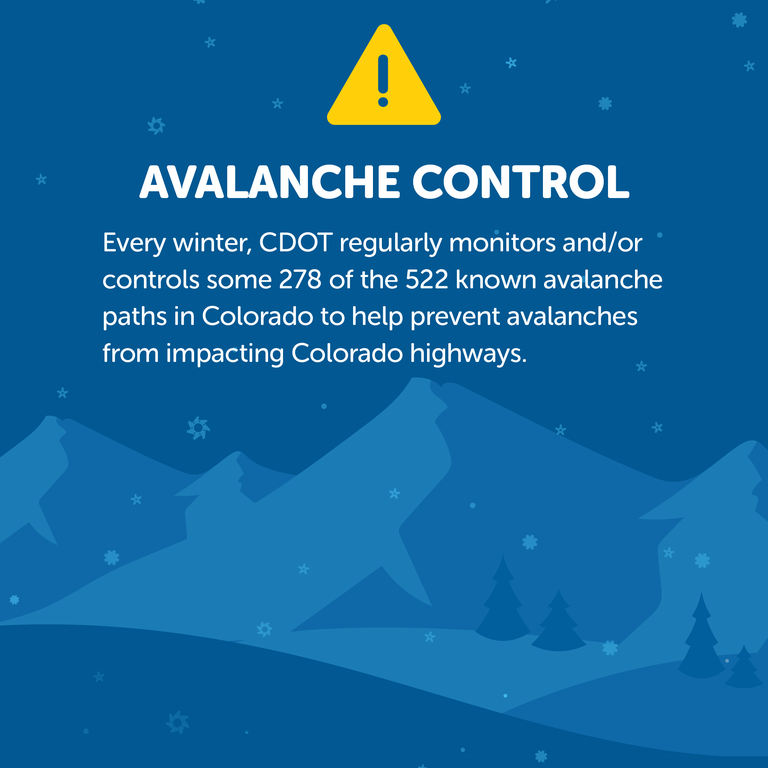 The major factors that increase the risk of an avalanche are large quantities of new snow, high winds and drastic changes in temperatures.
Since it is impossible to predict how much snow will be brought down during a control mission, CDOT cannot estimate how long a highway closure will be in place. CDOT will open the highway as soon as it is safe for the traveling public.
If you encounter an avalanche while in your vehicle, there are several precautions you can take to help keep you safe:
Stay in your vehicle and keep the windows rolled up.
Turn off your vehicle to prevent carbon monoxide filling the car.
Call for help on a cell phone.
Plan ahead during the winter season and keep additional food, water, warm clothes and blankets in your vehicle.