Tandem Snowplow Law
In 2019, Gov. Jared Polis signed House Bill 19-1265 into law, increasing penalties for motorists who pass snowplows.
It is now a Class A traffic offense to pass a snowplow operated by a state, county or local agency when the truck is displaying its lights and operating in a tandem formation with one or more snowplows.
What is "Tandem Formation"?
When snowplows operate in tandem formation, they are arranged diagonally. Each snowplow is stationed behind and to the right or left of the unit ahead.
Tandem formation staggers multiple plows to cover all lanes and clear the entire roadway in one sweep. This is the safest and most efficient snow removal method.
It is extremely dangerous for motorists to try and pass plows in this formation because you could encounter white-out conditions and ridges of snow between lanes.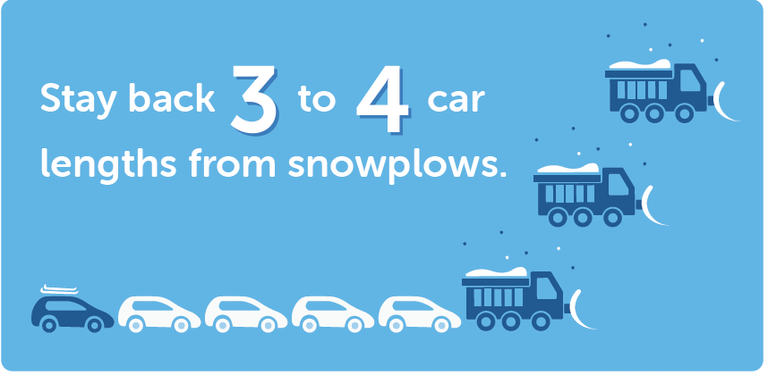 Fines and Penalties
A Class A traffic offense includes fines ranging from $15 to $100, plus a surcharge. The Colorado DMV may also add points to the offender's driver's license.
Bow to the Plow!
In addition to the Tandem Snowplow Law, there are two other dangerous maneuvers that all motorists should avoid around snowplows:
Tailgating — Plows need to drop deicer and sand, so make sure you stay back 3-4 car lengths of space. If you're too close, deicer and sand could hit your car. You also never know when a plow might need to suddenly stop — make sure you have plenty of room to do the same.
Passing on the Right — Never a good idea! Plows are designed to push all the snow, slush, rocks and other debris to the right of the plow. All that debris could damage your car and obstruct visibility.
Snowplow Tracker
Curious where CDOT's snowplows are in your area? Visit COtrip.org/snowplow.htm to track where CDOT snowplows are plowing near you and across the state.
CDOT is responsible for plowing state highways and interstates, which adds up to about 23,000 lane miles across Colorado. Individual municipalities are responsible for plowing their own local roads.
On highways with annual average daily traffic of 1,000 vehicles or more, snow removal operations will occur throughout the storm (24 hours) until normal driving conditions exist. On highways with daily traffic less than 1,000 vehicles, snow removal will occur from 5 a.m. to 7 p.m., with exceptions for school bus routes, highway segments with high accident rates or hospital/emergency routes.
CDOT uses a variety of products to treat Colorado highways during a winter storm. All products contain salt with added corrosion inhibitors used to prevent or remove ice and snow and minimize the impact on vehicles. For more information, visit https://codot.gov/travel/winter-driving/products.html. 
CDOT is looking to hire qualified snowplow drivers. If you have your commercial driver's license (CDL), apply here.