National Electric Vehicle Infrastructure Plan
About the NEVI Program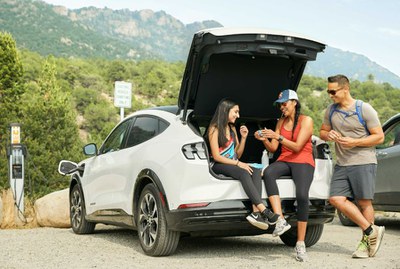 Established by the Infrastructure Investment and Jobs Act (IIJA), the National Electric Vehicle Infrastructure (NEVI) formula program funding will provide $5 billion over five years for states to deploy electric vehicle (EV) chargers along highway corridors. This buildout of EV chargers is critical to accelerating the adoption of EVs and enabling Americans to access the economic and air quality benefits of electrified transportation.
Colorado is expected to receive $57 million over the next five years to create an EV charging network across the state. The Colorado Department of Transportation (CDOT) and the Colorado Energy Office (CEO) will be working with partners and stakeholders to develop the state's National Electric Vehicle Infrastructure Implementation Plan. The plan is required to access NEVI formula program funding and is due to the Federal Highway Administration (FHWA) by August 1, 2022. The state's NEVI plan will outline its strategy for utilizing the NEVI funds and will address the establishment and evaluation of buildout goals, the role of contracting with third parties, public engagement, equity for rural and disadvantaged communities, workforce considerations, cybersecurity concerns, and more.
---
Alternative Fuel Corridor (AFC) Nominations
On February 10th, 2022, FHWA published the Request for Nominations for the 6th round of AFC designations. States are requested to review their existing AFC nominations and nominate additional routes, prioritizing the Interstate system. CDOT nominated six corridors: I-270, US 34, US 36, US 287, US 385, and US 550 for the 6th round of nominations.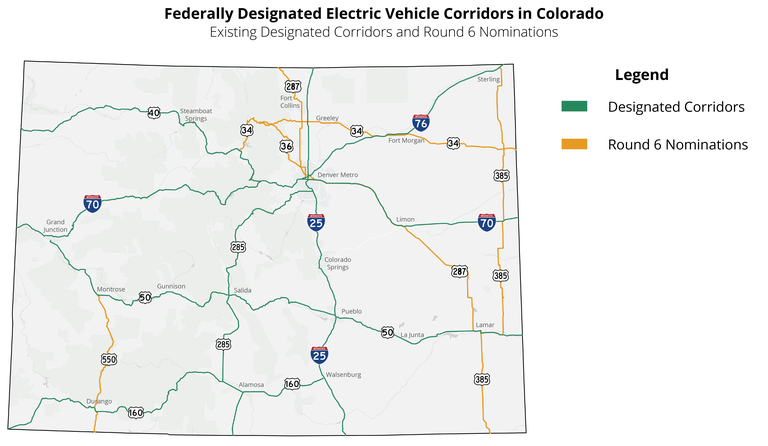 ---
Timeline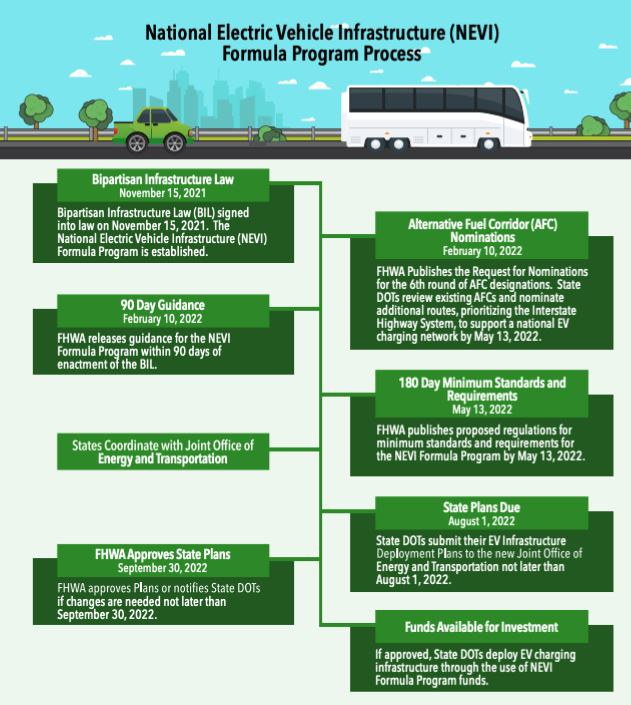 ---
Collaboration and Engagement 
CDOT is currently engaging with peer agencies and relevant stakeholders throughout the State to gather input for the NEVI Plan. In addition, CDOT welcomes the public and interested parties to submit comments for the NEVI Plan. Input on shaping Colorado's EV infrastructure vision and priorities can be provided through the following avenues:
Online National EV Infrastructure (NEVI) Deployment Plan for Colorado Survey. Please provide your response by July 8, 2022. There's an option to share your contact information at the end of the survey if you are interested in keeping up-to-date on electric vehicle planning efforts in Colorado. (Spanish version will be available by June 24th and if additional language translation is needed, please contact dot_

[email protected]

co.us email to make that request)

Virtual Public Meeting:

Tuesday, July 19, 2022 from 2:00-3:00 PM - Registration Link Coming Soon
Tuesday, July 19, 2022 from 6:00-7:00 PM - Registration Link Coming Soon

Subscribe Here for NEVI Plan Updates through our email distribution list.
Submit comments and questions to 

[email protected]

.