Independence Pass History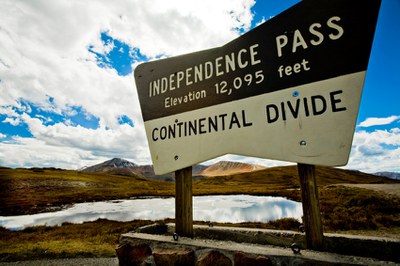 NOTE FOR TRAVELERS: The pass typically remains open until November 7 each year, depending upon weather, and is open on the Thursday prior to Memorial Day weekend, always weather permitting. Please check "Road Alerts" on our traveler information site (www.cotrip.org) to confirm road conditions along your route.
Independence Pass was carved out of the land by glaciers and the erosive action of the Roaring Fork River over thousands of years. It is the site of the first road in the Roaring Fork Valley, which was pioneered over Hunter Pass, the original name of Independence Pass, in 1881. An old stage road still remains visible from several locations. The road was built in its current location in 1927 and was paved in 1967.
The ghost town of Independence sits three miles west of the summit and was inhabited by about 2,000 citizens who came to work mining claims in the area between 1880 and 1883. When the gold boom went bust, most people moved on to pursue other claims or moved to the friendlier climate of Aspen. The final resident of Independence was Mr. J.R. Williams, who was one of the original miners and maintained a stamp mill in Independence until 1920. Surveyors named the Williams Mountains after Mr. Williams the same year.
The land around Independence Pass is now owned and operated by several entities. The Colorado Department of Transportation maintains State Highway 82. The US Forest Service owns a portion of the land where the ghost town of Independence sits, and the Loughran family, dating back to the times of original mining claims, also owns a portion. The Aspen Land Trust is currently negotiating to buy the property from the Loughrans to protect it from development.
Ferdinand Hayden first surveyed the pass in 1873 in what was at the time Ute Indian Territory. Roadway improvements undertaken by B. Clark Wheeler in 1882 established the Pass as a toll road charging 25-cents for saddle horses and 50-cents for two-horse wagons. Parts of that roadway are still visible in several locations between Aspen and the Pass summit.
Traffic over the Pass fell off following the repeal of the Sherman Silver Purchase Act of 1893 by President Grover Cleveland and Congress, and resulted in a crash of silver prices. Gold became the new monetary foundation. This devastated the mining communities throughout the valley. The towns of Aspen, Ashcroft, Independence and Ruby all saw their population drop overnight as miners relocated to richer claims. As a result, roadway improvements over the Pass did not occur until 1927, and the road was not paved until 1967.
The pass is part of one of Colorado's 25 Scenic Byways, the "Top of the Rockies," and is also designated by the U.S. Secretary of Transportation as a National Scenic Byway and one of ten America's Byways designated in Colorado.
Closure dates for the past five years:
2009: 10/29
2010: 10/26
2011: 11/2
2012: 11/9
2013: 11/4