CO 121/Wadsworth Signal Improvements in Jefferson County
About the Project:
The Colorado Department of Transportation will begin a signal improvement project August 1, 2022, on Colorado Highway 121 in Arvada and Westminster. Sturgeon Electric is the contractor for this project.
Improvements will take place on CO 21 at 66th Avenue and 87th Drive/84th Parkway in Arvada and on CO 121 at 104th Avenue in Westminster.
Work will include:
Replacing 30 year old signals with newer signals
Installing new vehicle detectors, closed circuit televisions and signal heads.
Upgrading the traffic signal communications, conflict monitors, ethernet connections and other cabinet equipment.
Updating curb ramps to meet ADA standards.
Install signing and minor striping at each intersection.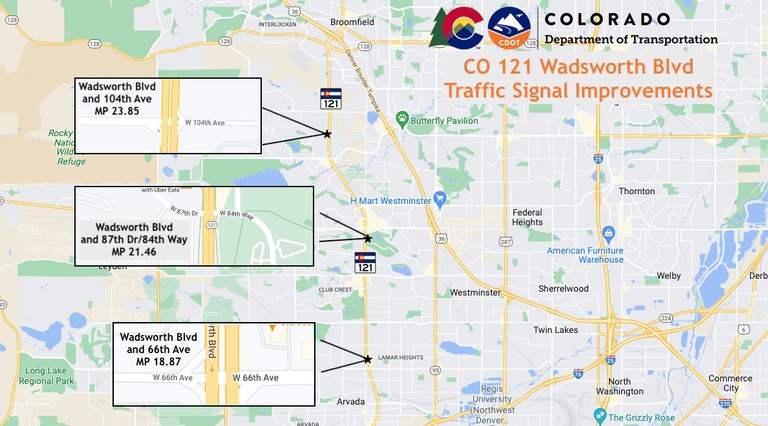 Click image to enlarge.
---
Project Benefits
This project will focus on replacing old traffic signal equipment, ensuring that our infrastructure and signal communications are up to date. Traffic signals are a vital part of controlling traffic in a safe and efficient manner by providing regulated movement. Vehicle detection will reduce unnecessary delays and stops at the intersection while improving travel times and increasing the amount of traffic that an intersection can handle.
Other benefits of the project include the installation of Americans with Disabilities Act (ADA) compliant curb ramps. The new ramps will be in compliance with the Public Right  of Way Accessibility Guidelines (PROWAG) requirements and will provide function accessibility to all travelers using our state and US highways.
---
Work Schedule:
Hours of operation are

Tuesday through Friday

7:00 a.m. to 5:00 p.m.
Some night work is anticipated.
The project, starting in August, has an anticipated completion date of December 2022.
---
Traffic Impacts:
CO 121/Wadsworth Boulevard at 104th Avenue
Tuesday through Friday from 7 a.m. to 5 p.m. north, south, east and westbound right turn lane closure

Tuesday through Friday from 9 a.m. to 5 p.m. northbound right lane closure

Tuesday through Friday from 8 a.m. to 4 p.m. southbound right lane closure




Tuesday through Friday from 8 a.m. to 5 p.m. east and westbound right lane closure
CO 121/Wadsworth Boulevard at 87th Drive/84th Parkway
Tuesday through Friday from 7 a.m. to 5 p.m. north, south, east and westbound right turn lane closure

Tuesday through Friday from 8 a.m. to 4 p.m. north, south, east and westbound right lane closure
CO 121/Wadsworth Boulevard at 66th Avenue
Tuesday through Friday from 7 a.m. to 5 p.m. north, south, east and westbound right turn lane closure •Tuesday through Friday from 8 a.m. to 4 p.m. southbound right lane closure

Tuesday through Friday from 9 a.m. to 5 p.m. northbound right lane closure

Tuesday through Friday from 8 a.m. to 5 p.m. east and westbound right lane closure
Project Facts
Cost: $1.8 Million
Contractor: 

Sturgeon Electric

Timeline: August - May 2023
Location: CO 121 at 66th Avenue and 87th Drive/84th Parkway in Arvada and on CO 121 at 104th Avenue in Westminster