US 285 Safety Improvements
About the Project
U.S. Highway 285 (US 285) continues to experience traffic congestion and crashes due to the increase in motorists that travel the corridor.  The Colorado of Department of Transportation (CDOT) has identified safety improvements near the town of Bailey.
The US 285 Safety Improvements project is intended to make the route safer for the traveling public, reduce risk for local residents, improve flow through the area, and reduce crashes. The project has two areas of focus:
Section A: northbound US 285 through the town of Bailey
Section B: northbound/southbound US 285 between the interchange at CR 72 and Rosalie Road (approximately one mile)
In addition, safer and more efficient routes as a result of the removal of the traffic signal at US 285 and CR 43A.
Project Facts
Cost: $1.35 million
Timeline: Construction TBD
Location: US 285 between Mile Point 221 - 226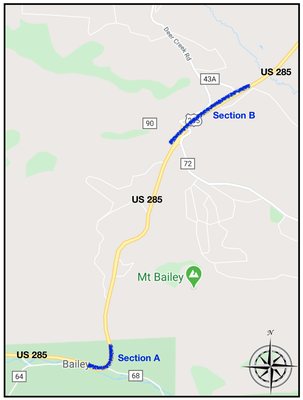 ---